The textile industry is one of the world's most polluting industries. Five specific intentions have been expressed to work on a circular approach to textiles in the Amsterdam region over the next three years: refuse, reduce, reuse, repair, and repurpose/recycle with processing in the region. Numerous parties in the region have signed up to these intentions. A circular textile industry causes less environmental impact and generates more employment.
Why Textile Loops?
The Textile Loops initiative focuses on circular textiles. Used textiles are no longer discarded but maintained and repaired to give them a longer lifespan. Non-reusable textiles are processed to make new products. By 2025, 20% of all textiles in the Amsterdam Metropolitan Area will be circular. Textile Loops thus contributes to the green metropolis of the future. The project was initiated by the Board in partnership with the City of Amsterdam and the Amsterdam Metropolitan Area.
What is it?
Textile Loops focuses on innovative ways of 'closing the loop'. In 2021, we are focusing on expansion and scaling. This means that we are strengthening newly formed regional consortiums aimed at recycling of non-reusable textiles, building valuable partnerships and identifying innovative organisations that are working on extending the lifespan of textiles in order to create new value.
Goals for 2021
 Two new 'Deals' in specific product categories will be established, following on from 2020's DenimDeal.
A knowledge and innovation centre for recycling discarded textiles will be embedded in an ecosystem with market parties.
A repair, maintenance and repurposing centre for circular textiles will be established.
The first phase of an ecosystem of circular textile actors will be launched.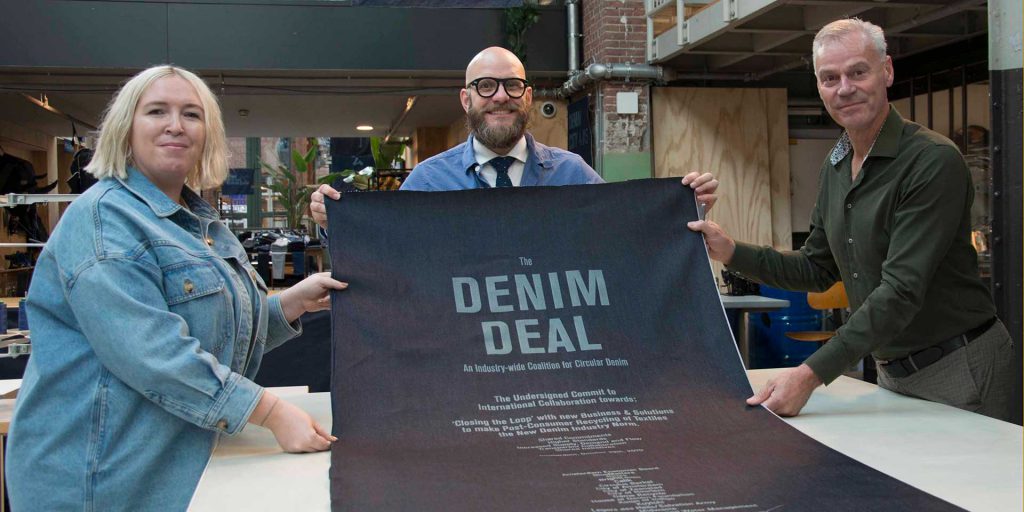 Activities in 2021
Identifying organisations and guiding a consortium/partnership for 'Deals' in a specific product category, in cooperation with a business developer from Invest-AMA.
Putting the issue of regionally recycled fibres on the agenda in various purchasing communities, such as the High Impact Procurement community, and the procurement community of the local governments within the AMA.
Drawing up scenarios for a knowledge and innovation platform, identifying a leader and connecting the platform with funding.
Making and implementing a plan for the development of the 'textile value loop' ecosystem for collaboration, knowledge sharing and communication.
Invitation to collaborate
If you would like to contribute to circular textiles, contact Claire Teurlings, Circular Economy Lead.