Chain transitions: still a delicate process
Circular products and services can deliver enormous reductions in greenhouse gases and reduce our over-consumption and scarcity of raw materials. The government has a crucial role in this through strong policy and targeted measures. But it needs the joint efforts of the business community, local government, knowledge institutions and civil society organizations to implement the policy. Network management can accelerate this.
Read the interview with Board member Jacqueline Cramer on innovationorigin.com.
Accelerate
The Board uses the power of network management because you create structure in collaboration between frontrunners within companies, knowledge institutions, governments, social organizations and citizen initiatives, so that innovations get off the ground faster and better. And if such an innovation proves to be useful in practice, more and more parties will also join in. Then the ball starts rolling.
This applies to many circular initiatives, which must be established in a network of parties. And circular initiative is not perfect all at once, but every step opens the door to the next big steps.
"Network management is not an informal 'we'll see how things go' collaboration. It is a formalized structure in which everyone fulfills a pre-agreed — and later more precise and sometimes adjusted — role that contributes to the end result."

Board member Jacqueline Cramer
Ten building principles
Cramer wrote a book on The power of network management; Ten Building Principles for a Smart, Green and Healthy Amsterdam Metropolitan Area. It provides guidance for the implementation of network management and is based on scientific insights and decades of experience with transition initiatives. The building principles can be used for all kinds of transitions: for large national and regional initiatives such as the initiative LEAP, where partners work to accelerate the sustainable digital infrastructure, form an ecosystem for zero-emission city logistics (Green Deal ZES), of all textile initiatives in the Amsterdam region set up a regional Circular Textile Valley and also, for example, neighborhoods that want to make their neighborhood greener or more energy- efficient. All parties have their own role and responsibility in the network. If they fail to do so, the transition initiative will be delayed.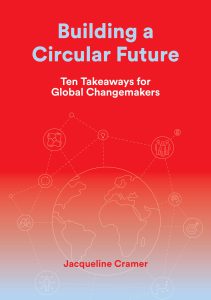 Sneak preview new book
Her second book will be published early March, providing insight into  similarities and differences in global governance of the circular economy. This helps changemakers around the world build a circular economy.
Community Meetup #5 Circular Textiles
On Thursday 27 January the Circular Textile Community reconvenes from 15:30 to 17:30. Together with Jacqueline Cramer, we will zoom in on the Vision & Roadmap for Circular Textiles, we will provide an update on the AnotherLife campaign and a number of sub-initiatives. Interested? Click here and sign up!
Jacqueline Cramer is a member of the Amsterdam Economic Board, where she is actively involved in initiatives in the field of circular economy. She is also emeritus professor of sustainable innovation at Utrecht University. From 2007 to 2010 she was Minister of Housing, Spatial Planning and the Environment. She holds numerous leadership positions, including chair of the Supervisory Board of Holland Circular Hotspot and chair of the Concrete Agreement.
More information
Contact us
Share
Read more
The Amsterdam Economic Board, ORAM and ROM InWest invited entrepreneurs and governments ...

Preparations for the Zorginnovatieprijs 2024 are in full swing and registration has begun! ...

The Amsterdam region reaffirms its position as a blooming biotech powerhouse with ...