All ABOARD: working together to stop Alzheimer's
To 'stop Alzheimer's before it starts' is the aim of ABOARD, a highly ambitious nationwide collaboration of more than 30 healthcare partners in the Netherlands. Making that goal a reality relies on communication, public-private cooperation and data. A lot of data, provided by the public and accessible to multiple researchers via an integrated infrastructure.
Currently an estimated 55 million people worldwide are living with dementia, with this number set to rise to 139 million by 2050, according to Alzheimer's Disease International.
Wiesje van der Flier, scientific director of the Alzheimer Center Amsterdam at Amsterdam UMC, is leading ABOARD. The project was inspired by her observation of the advances that are being made in the understanding of many different aspects of Alzheimer's disease. "These range from fundamental new insights, into genetics for example, to applied practices," she says. "I realised that these changes are so large that nobody can do this alone – we really need to work together." It didn't take long for Van der Flier to discover that her vision of a large-scale research project carried out by a national multidisciplinary consortium was shared by many others. "I had a rough plan and I started to make phone calls to see who might want to join. I then realised we really needed a public-private partnership, including not only the academic centres and the hospitals, but also companies and members of the public. Everybody I called said: 'Yes, I'm in, because this is really important.' In the end I had over 30 partners."
The long journey to dementia
The motto of the ABOARD project is 'Stopping Alzheimer's before it starts.' Not an impossible dream, according to Van der Flier. "What we have learned over years of research is that Alzheimer's disease develops over the course of 20 to 30 years, before finally there is dementia," she explains. "So what we want to do is stop the brain pathology, stop the disease. Stop Alzheimer's before the onset of dementia." The four pillars of ABOARD's approach are diagnosis, prediction, prevention and patient-orchestrated care. The approach is based on an understanding of the patient journey, says Van der Flier. "We need to make sure that we can do an accurate and early diagnosis. And when we have this early-stage diagnosis, we have to make sure that we can predict what will happen to someone in their disease trajectory. And then we have to know what works best for individual patients and what combination of lifestyle and medication will be effective." The fourth pillar, patient-orchestrated care, is aimed at offering the best support possible to patients and their families, putting patients "at the steering wheel of their own healthcare, their own disease management."
Fruitful collaboration
The project, which has a five-year timespan, was launched in April 2021 and has progressed on different fronts. The discovery of specific biomarkers and a number of novel genes holds promise for early diagnosis and prediction. Worldwide developments in the field of lifestyle interventions and pharmaceuticals are swift. Moves to better involve patients and their families are paying off.
The consortium works on a huge number of topics, with 35 separate tasks in total. One of the reasons it functions well is that each partner focuses on the specific aspect of Alzheimer's in which they are experts. The collaboration itself, says Van der Flier, is one of ABOARDS's biggest achievements so far: "We really pull off being a network together, talking together, knowing how to find each other. We're also building a new generation of young researchers and young professionals who will have to do this in the future. And that is very special."
Staying connected
Van der Flier is also highly enthusiastic about the public-private nature of the project. "It's very rewarding," she says. "When you work in an academic setting, ultimately you want your research to benefit society, and for that reason it's very important to collaborate with societal partners, with companies. The companies can scale up the results and the societal partners know what's really going on in society." Of course, there are challenges in working in such a large consortium with partners who each have their own agenda and their own opinions. Communication is the key here, says Van der Flier. "The formal collaboration is all laid in the consortium agreements, which all partners must adhere to. But in daily practice, it's all about communication: staying connected and knowing what you can contribute to the project and what you want to get out of it."
'We are all at risk'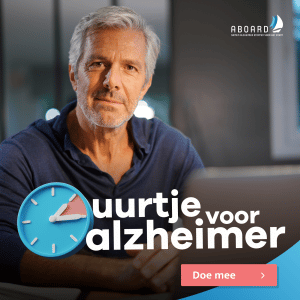 Like all major research projects, ABOARD relies on large data sets, and to generate these, the ABOARD cohort has been launched. It aims to recruit as many people as possible for a study to understand the progression of Alzheimer's disease. Members of the public are invited to join by signing up on the website (in Dutch), and healthcare professionals can get in touch directly to find out how they can get involved.
As Van der Flier explains: "Growing older is the largest risk factor for Alzheimer's, so we are all at risk. I'm interested in every Dutch citizen above a certain age in order to learn more about the disease trajectories." The cohort is entirely online, something Van der Flier believes greatly simplifies the process: "Normally, when you want national recruitment, you will have a multi-centre study with a lot of hospitals involved, and it's very difficult to get that arranged. Organising it online with a direct-to-participant strategy means less hassle and less work for healthcare professionals who want their patients to contribute to research."
Along with simplifying recruitment, opening the study to all comers with an online registration system enables a broader and thus more diverse database. "Most research projects are based on selected cohorts," says Van der Flier, "so you have to question whether prediction models will also hold for the general population."
Cohort participants fill out an annual questionnaire covering their physical and mental health, lifestyle and use of healthcare. They are also asked to consent to researchers accessing relevant clinical data from their healthcare provider(s) and/or healthcare insurer.
Health Data Infrastructure: a catalyst for change
When that consent is given, the challenge is collecting the data from the various third parties and making it accessible to researchers. Van der Flier is looking to the Health Data Infrastructure (GDI) programme as a way to tackle that challenge. In this initiative, the Amsterdam Economic Board works with Amsterdam universities, research institutes, medical centres and the City of Amsterdam towards establishing an integrated infrastructure that will make data and insights available to researchers and healthcare professionals. Van der Flier describes it as a "hugely important" initiative, because "one of the bottlenecks is finding enough research participants. In the end, we can only make progress when citizens, patients, help us by sharing their data. We want to be able to scale up. To extrapolate and validate in a large-scale setting, to connect specific studies so that whether you participate in a study in Rotterdam or Maastricht or Amsterdam, you're also included in this overarching study."
She believes the Health Data Infrastructure can be a catalyst in terms of making data from individuals and healthcare organisations available for research. "It helps by linking hospitals and extracting their data in the best way, organising it legally and from a database perspective, keeping things well-regulated and working smoothly and privacy protected. And of course, that's very challenging because of all the different organisations and IT systems."
A country of excellence
Amsterdam is an excellent base for such large-scale public-private collaborations, says Van Der Flier. "Amsterdam has it all. The universities, the university hospitals, a lot of great healthcare professionals, societal organisations, companies." And ABOARD is also attracting interest from outside the Netherlands, which she believes the Dutch government could capitalise on. "I hope that the Ministry of Health and the Ministry of Economic Affairs will use the project to showcase the Netherlands as a country of interest and to position us as a country of excellence when it comes to dementia research and healthcare."
Play your part
ABOARD relies on large-scale participation. Members of the public can take part by signing up online and filling in the questionnaires (in Dutch). Healthcare professionals are invited to reach out to the ABOARD cohort directly for help with getting their patients involved.
Amsterdam UMC is a partner of our initiative Smart Health Amsterdam and a member of the Amsterdam AI coalition, a unique collaboration between Amsterdam knowledge institutions, research and medical centers, the municipality of Amsterdam and the Amsterdam Economic Board. This coalition focuses on the development and application of responsible Artificial Intelligence, by combining the power of AI with a human-centered approach.
Read more
The 25th edition of Medical Data & Pizza reflected the ...

At the Prevention & Health workshop, experts from the public and private ...

The Metropolis of Tomorrow requires bold choices and breakthroughs. The 'Look differently, ...