Slowing down dementia: early diagnosis matters, and biomarkers are key
Currently an estimated 55 million people worldwide are living with dementia, with this number set to rise to 139 million by 2050, according to Alzheimer's Disease International. Charlotte Teunissen, professor of neurochemistry at Amsterdam UMC, is a leading figure in efforts to tackle the devastation caused by dementia.
Teunissen has just published a major research paper identifying new biomarkers that differentiate different types of dementia, including Alzheimer's. A biomarker is a compound in a person's body that can indicate whether someone is healthy, or not. A global network of top researchers is set to support this research by validating the new biomarkers – this is an international project with Teunissen and Amsterdam UMC at its heart. Our initiative Smart Health Amsterdam has been working on bringing that community together.
Teunissen's work focusses on identifying proteins that are related to Alzheimer's disease in cerebrospinal fluids (CSF) to enable early diagnosis. And early diagnosis is crucial, she says. "If you identify early, you can interfere with the damaging process. With the brain that's especially important, because the damaging process leads to a loss of brain cells, and these cannot be replaced – so what we lose is lost."
First step towards treatment
Early diagnosis has become even more important since the recent release of the results of a new drug trial. The drug, Lecanemab, could benefit early-stage Alzheimer sufferers. The disease is associated with an abnormal build-up of two proteins in the brain, and the drug has been shown to remove one of these, the beta-amyloid protein, as well as slowing cognitive decline. "You can only treat people with an anti-amyloid therapy [such as Lecanemab] if they have amyloids," says Teunissen. "So you need to prove that they have Alzheimer's pathology."
Accessibility to the treatment is problematic due to the high cost and the need for delivery by infusion, but nevertheless, says Teunissen, "this is a big first step. It shows that there are independent validations of the concept of the amyloid therapy and that this approach works. And that changing the amyloid is also preserving cognition and affecting quality of life. It really is important."
International validation
Back to Teunissen's research – the new biomarkers she has identified must now be validated before they can be implemented. This validation is made possible by working with international consortia where Teunissen has a leading role, such as the Global Biomarker Standardization Consortium and the European Platform for Neurodegenerative Diseases. The work will be carried out using the collaborative Olink Proteomics platform.
Along with international collaborations between researchers, public-private partnerships are also essential to Teunissen's work. "If we have biomarker assays and want to bring them to the clinic," she says, "a company has to take over production, sales, standardisation and upscaling. That's not the task of an academic institution. We are depending on them to bring biomarker assays to the markets and to get trials funded, otherwise not much will happen."
GDPR hampering progress
When asked about the barriers to progress in her research, Teunissen points to the European GDPR regulations. They are, she says, too focused on risk avoidance and hampering progress. "The contracts that we have to prepare are time consuming and [the regulations] are not completely clear to everyone. Sometimes it's not possible to collaborate with, for example, researchers in the US as they cannot use our European data. It's really hampering research." Teunissen believes the European Union has to allow more flexibility when it comes to data sharing for research purposes. "We are not Google or Twitter," she says. "We only want the data for research, and we can protect it – so please, please, give us access."
Stop Alzheimer's before it starts
Alongside her work at Amsterdam UMC's Alzheimer Centre, Teunissen is active in a number of consortiums, societies and other organisations, including ABOARD, a large-scale multidisciplinary research project bringing together more than 30 partners from throughout the Netherlands. ABOARDS's aim, she says, "is to stop Alzheimer's before it starts. To create the infrastructure for early diagnosis, for example, but also to intervene in multiple ways, such as lifestyle interventions." The consortium's strength is that it brings together all relevant stakeholders – "patients, representatives, caregivers, the diagnostics industry, and also pharma and academic institutions." The Amsterdam Metropolitan Area is an ideal base for this kind of collaborative activity due to its top-class facilities, resources and what Teunissen describes as a concentration of expertise.
Good relationships and a story to tell
Teunissen herself has been instrumental in attracting international researchers and companies to join the Amsterdam biotech community. Key to this is "having good relationships, something to offer and a clear story to tell. And it is important to have a framework for multidisciplinary collaboration, so we know who to reach out to and can meet other stakeholders and people from other disciplines." Our initiative Smart Health Amsterdam is all about making these kinds of connections, and has been building a flourishing health innovation ecosystem in the Amsterdam Metropolitan Area. Teunissen appreciates the opportunities that offers. "In our research, we come up with so many ideas, and we can't be experts in everything. It's good to understand who in Amsterdam can help with finding a solution – maybe they have an algorithm, or they can build an app or produce some specific plastics that we need. For example, we are working on a lateral flow test, and if we are successful in developing the reagents and so on, we need to put them in a cassette, and there is just such a plastics proof cassette provider here in Amsterdam. It's so nice when you can connect easily."
The Olink technology works particularly well for working within a collaborative network, according to Teunissen. "Different researchers encounter similar problems, and it's a great opportunity to collaborate because everyone uses the same technology. You can compare your results. If, for example, you do research on brain fluid, you usually don't have a large cohort. So we have to collaborate with many people to ensure we have sufficient numbers of patients in our studies to make them reliable."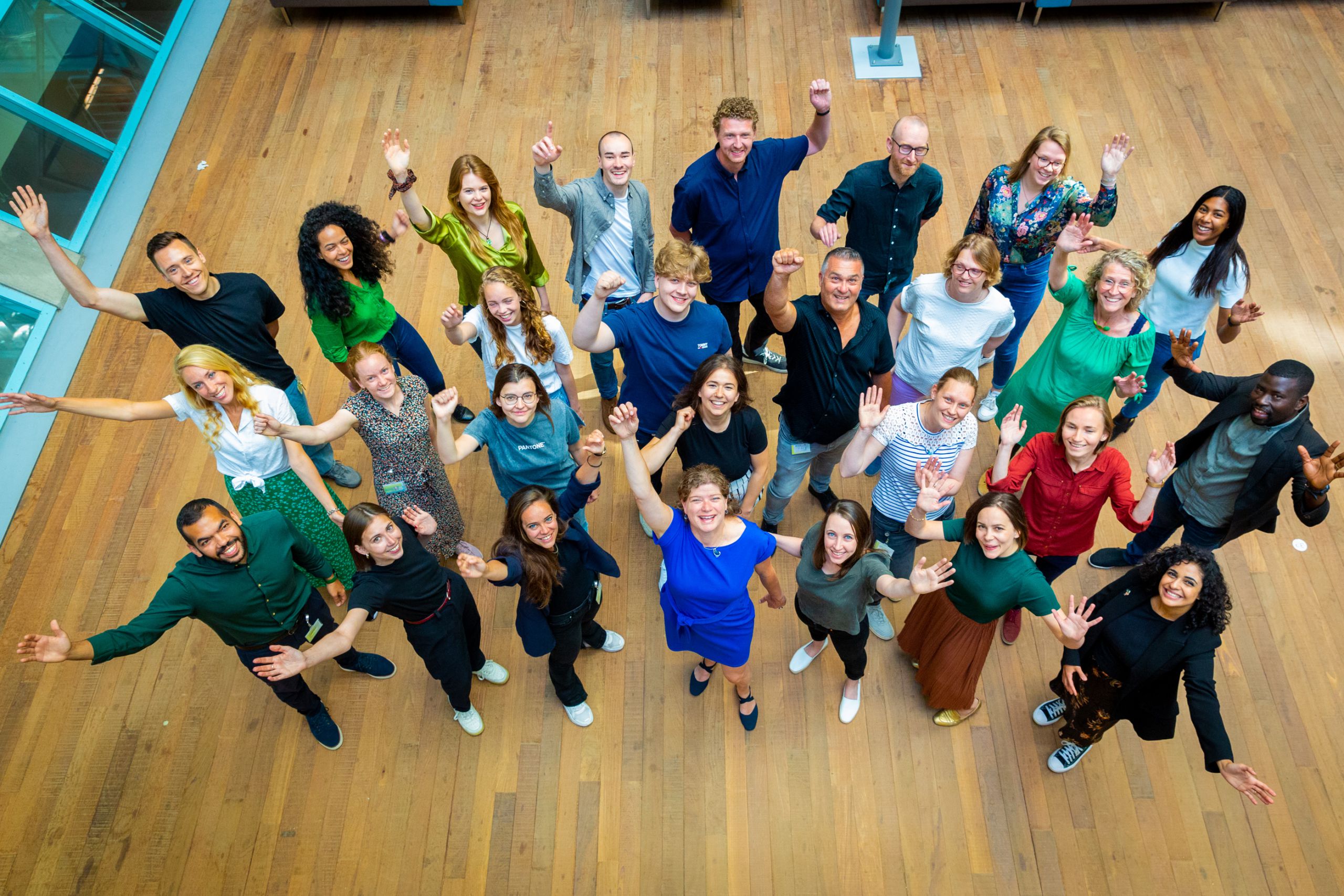 Amsterdam UMC research group
Photo: Mark van den Brink
More information
Contact us
Share
Read more
The Amsterdam Economic Board, ORAM and ROM InWest invited entrepreneurs and governments ...

Preparations for the Zorginnovatieprijs 2024 are in full swing and registration has begun! ...

The Amsterdam region reaffirms its position as a blooming biotech powerhouse with ...