Data is information that you can continuously transform into new information. That enables us to learn — through new questions and new applications — and we can use data to solve new challenges. It requires joint agreements on privacy and property rights. So we can share data with others, while  remaining in control. That creates a foundation of trust that is needed to make our data accessible. Findable. Interchangeable. For and by anyone who wants to turn data into something beautiful.
Why AMdEX
The AMdEX initiative contributes to the development of a fair and sustainable digital society and thus to a smart Amsterdam Metropolis.
What is AMdEX
AMdEX enables secure and reliable data exchange, under its own conditions and without dependence on third parties. If all organizations would share their own data, this would lead to better healthcare, a more intelligent use of energy and more sustainable travel. But what organization would share its data with a competitor? Dataspaces – digital marketplaces for data – need to break this deadlock. The distinguishing feature of such a dataspace is that no one can take control. So it works fundamentally differently from current monopolistic data platforms.
Watch the short explainer video on AMdEX. Text continues below.
Text continues below the infographic. Click to enlarge.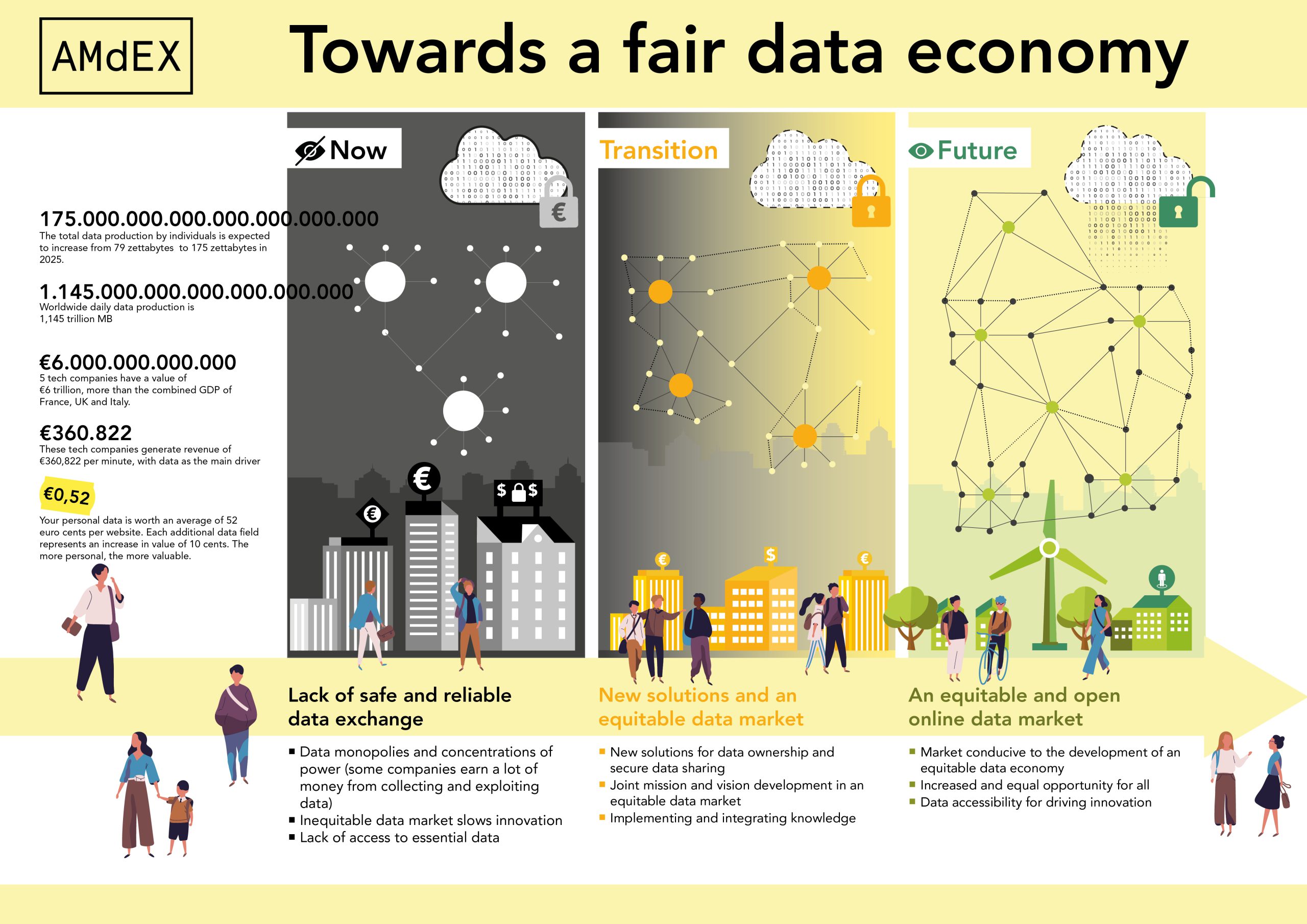 Goals for 2022
In the AMdEX field lab, Amsterdam Economic Board and partners are developing:
A prototype AMdEX that provides the basic functionality to enable fair and reliable dataspaces;
Use cases to test the functionalities of AMdEX in real-world conditions;
Governance and business models for scaling up AMdEX to an independent association;
A multitude of AMdEX-inspired regional, national and international interactions and collaborations.
Would you like to become involved in the development of AMdEX? Read more on how to participate.
In 2040, the Amsterdam Metropolitan Area will be a responsible, sustainable and inclusive digital region. Public values ​​are presupposed in the way we use digitization. We are autonomous and have control over our data, instead of the other way around. Technology is used in a responsible manner for social issues in the region, in all kinds of areas, including health. Digitization also contributes to a longer healthy life. And the ecological footprint of our digital system is minimal due to the circular use of materials and the flexible and smart use of sustainable energy.
Activities in 2022
In the AMdEX field lab, the Amsterdam Economic Board in 2022 will be responsible for:
Through communication, marketing and storytelling – via workshops, webinars and our online channels – we connect a diverse network of governments, companies and researchers to AMdEX;
Developing strategic alliances at regional, national and European level;
Researching the (market) need for data sharing, techniques and bottlenecks;
Identifying and developing test cases in co-creation. For example, in collaboration with the initiatives of LEAP and Health data infrastructure.
Invitation to collaborate
Are you interested in contributing to AMdEX and would you have an interesting test case? Read more on all possibilities to participate in AMdEX. Or contact Willem Koeman, Lead Digital.
The development of AMdEX is financially supported by the European Regional Development Fund and the Province of Noord-Holland.

Usecase partners
Amsterdam Data Science | Data Sharing Coalition | Dell Technologies | FacilityApps | H2O Esports Campus | iSHARE | KLM | KPN | Luminis | Marineterrein Amsterdam | SAE ITC | Tapp | TNO | UNL