Principles of Look differently, act differently
Look differently and act differently: get started now! Doing nothing is not an option and change is necessary. But how do you go about it and what are your starting points? What new perspectives are needed to realise a future for the Amsterdam Metropolitan Area in which everyone can enjoy living and working?
Look differently, act differently, the movement that the Amsterdam Economic Board is implementing in partnership with the Metropoolregio Amsterdam, asks you to take a different view of whatever initiative, issue or plan you are working on. Look at issues from the perspective of the nine principles of Look differently, act differently (Dutch). Daring and courage are needed to really do things differently. Involve all stakeholders in your issue – also those outside your own bubble – and ask them (and yourself) these questions.
Want to get started?
The Look differently, act differently methodology is new to the Amsterdam Economic Board and our network. We will develop it further in the coming months using the input we gain from each other, for example in our workshops.
Want to know more about Look differently, act differently and learn how to apply it in practice? Learn how to apply this concretely? Join one of the Look differently, act differently workshops. These will be held in Dutch.
The nine principles of Look differently, act differently
By constantly testing the issues we face as a region against the nine principles of Look differently, act differently, new insights, solutions and other choices emerge. In essence, this is about building a region together where everyone can enjoy living and working.
In discussions with all stakeholders, decide which perspectives from the methodology are relevant to your situation. And what that means for your plans and activities.
Click on the image to enlarge.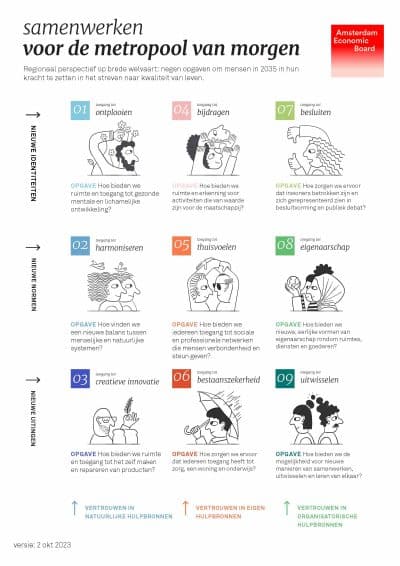 How did these principles come about?
We engaged in lengthy and in-depth discussions with a broad group of creative thinkers, administrators, entrepreneurs and scientists from different disciplines and backgrounds. See who was involved in these discussion sessions.
The participants' input was summarised and put into context by the Reframing Studio team. The result is a joint picture of the region's mission and the challenges to work on to achieve inclusive prosperity. Download the Reframing Studio report (pdf in Dutch). This report doesn't describe the individual missions of the participants, which are often related to their own organisations. There was, of course, a diversity of views within the group; the report outlines the common threads.
Nine principles emerged from these sessions, which everyone can apply. They are guidelines for an Amsterdam Metropolitan Area in which people are central and inclusive prosperity is the norm.
Ask different questions, outside your bubble
Looking differently and acting differently requires a different starting point for the issue or plan you are working on and the goal you are working towards. To establish this, engage with people outside your own bubble and ask questions that are different from the ones you usually ask:
Who is at the table? Is everyone with an interest adequately represented (directly or indirectly)?
What is the dot on the horizon? Are we working towards a future in which every resident participates?
Does the issue or plan have potentially negative consequences for certain groups? Does it increase inequality?
What is the impact of your plan, e.g. on sustainability or the labour market?
Are we working from a basis of trust? What is needed to enable this?
Participants Look differently, act differently
Randstad, Marjolein ten Hoonte | Waag, Marleen Stikker | ROC Amsterdam/Hilversum, Jeroen Ankersmit | De Alliantie, Koen Westhoff | De Groene Afslag, Lucas Mol | Rabobank, Otto Raspe | Cascoland, Roel Schoenmakers | Nova College, Talitha van den Elst | Municipality of Amsterdam, Tijs Roelofs | Masterplan Zuid-Oost, Saundra Williams | Vrije Universiteit, Henri de Groot | AMS Institute, Eveline van Leeuwen | Port of Amsterdam, Koen Overtoom | Young on Board, Amina Hassan Sheikh Ali | Ombudsman Metropolitan Amsterdam, Munish Ramlal| IXA Amsterdam, Ted Veldkamp | Alliander, Pallas Agterberg | Studiezalen, Abdelhamid Idrissi | Ballast Nedam, Onno Dwars | Staatsbosbeheer, Harry Boeschoten | MRA Directie, Addy Verschuren, Emiel Reiding | Amsterdam Economic Board, Nina Tellegen
More information
Contact us
Share
Read more
Looking back, saying goodbye and looking ahead were all part of the ...

The Amsterdam region has a tremendous amount of Life Sciences & Health ...

What specific outcomes do your efforts yield? That's a question we'...