'We must also work on a complete and inclusive city'
Above all, a smart, green and healthy region must also become an inclusive region. That is how Pantar director Lex de Boer feels. With a membership of the Network Council, he hopes that the social development company can contribute to this.
What exactly does Pantar do?
"We are a semi-public organization that employs almost 3,000 people in Amsterdam and Diemen who are at a distance from the labor market. We employ people who cannot manage independently. They work for example at the UvA and HvA, as a bicycle and field coach, as a cleaner or tidier of lecture halls. Some do production work. We pack razor blades for Boldking, assemble bicycles for Brandbikes and Ebike to Go, make luminaires for Atomis and repair the lights for the runways at Schiphol for construction company Heijmans. In total there are about 400 customers in the region who use our services. "
Why did Pantar join the Board?
"The Participation Act requires us to become more entrepreneurial as an organization. We must now remain an interesting party for both employees and clients. As far as I am concerned, the Board is primarily an interesting meeting place, but also a place where many interesting analyses come from. Consider, for example, The State of the Region, which tells us a lot about tomorrow's labor market. I would like to belong to such an organization."
Which Board themes appeal to you in particular?
"We are still a bit in the exploratory phase, but I know that the Board is doing a lot in the field of circularity , and inner-city logistics . These are themes that we also deal with and that we want to learn more about. We can share knowledge about these too. That is how the people who live in Amsterdam probably know our vans. A lot of them are on the road: they deliver internal mail and parcels to organizations. Or they collect separate waste flows in a smart way, for example bread from schools and mosques and orange peels from hotels, bars and restaurants. Pantar is willing and able to up-cycle these waste flows and deliver them to our network of companies that use them to make products, which we can then repack."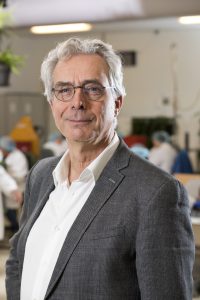 Lex de Boer, Pantar director
You want to contribute to a more inclusive labor market. Many companies find it difficult to work with people who are at a distance from the labor market. What are the biggest challenges for these companies?
"In 2015, the outgoing cabinet drafted the Participation Act, which the Social and Cultural Planning Office and the Scientific Council for Government Policy now label as a complete failure. That goes a bit far, but I do see that companies are struggling with this theme. Too little has come of the job agreement. It is often still possible to hire someone with a physical disability, but it hiring people with psychological problems is an even bigger challenge. These people drop out relatively often and sometimes disrupt existing processes. That means more guidance is needed to keep them working. It also means that you have to adjust your expectations. By not only looking at the economic value for your organization, but also at the social value and the self-esteem that the work brings to these people. For example, I think that the UvA and HvA do that very well. They really are a place to learn for our people and understand that things are not always perfect. "
What else could the Amsterdam Metropolitan Area be committed to in your opinion?
"There will be a new Participation Act from The Hague. In anticipation of this, the municipalities in the region should already put this topic on the agenda, as the Amsterdam alderman Rutger Groot Wassink did recently. He wants people on welfare to be able to earn up to 500 euros. All municipalities are struggling with this issue, but we should already be taking measures before the new law, for example in collaboration with social firms like us. It's a complicated issue, but I think we can lead the way. As a Board we can boost this. "
"In the longer term, I think we should also focus on the manufacturing industry in the region. There is too little low-skilled work that is not so physically demanding. That work is essential for my organization: we have a lot of hands that can make things, but not all people can clean all day long, work in the landscaping or in the catering industry because it is too heavy. Due to a lack of manufacturing industry, we are becoming an increasingly elitist city. I think that's a shame. I do see opportunities now that many companies are engaged in reshoring. As a region, we could benefit from that. The corona crisis, but also the recent blockade of the Suez Canal, show that having everything made abroad has its limitations. In Rotterdam, for example, televisions are now being assembled again and in Brabant they are also doing well with the manufacturing industry. Within the Network Council, I will therefore certainly work to ensure that we not only become a smarter, greener and healthier city, but also a complete and inclusive city. "
Become a member of the Network Council
More information
Contact us
Share
Read more
Looking back, saying goodbye and looking ahead were all part of the ...

The Amsterdam region has a tremendous amount of Life Sciences & Health ...

What specific outcomes do your efforts yield? That's a question we'...