Utopian ambitions for the blood bank of the future
Sanquin has come a long way since 1998, when the Blood Supply Act authorized it to be the only organization in the Netherlands to meet the need for blood and blood products in the Netherlands. In addition to fulfilling the responsibilities of a national blood bank for decades, Sanquin has gone one step further in meeting challenges in hematology, immunology and oncology. Pioneering research, the development of blood-related products and services and the willingness to lead the way in public-private partnerships characterize the business.
As a leading Dutch center for research and care innovation, the collaboration with Smart Health Amsterdam was a natural step, according to Rogier van den Braak, managing director of the Sanquin Health Solutions Group. "We think it's a very important initiative," he adds, pointing to Smart Health's work linking life sciences knowledge to big data and artificial intelligence. "It was a logical step for us to join that Smart Health movement, because we have a lot of opportunities in that area."
Birth of Sanquinnovate
There has always been a desire to translate more of Sanquin's research findings into real-life solutions, which ultimately led to the launch of Sanquinnovate, Sanquin's valorization branch, in 2017. At the time, Van den Braak explains, "there was a goal to do all kinds of translational research work that should lead to new products and new services. But what came out in the end was really little. There were a lot of ideas generated that just stayed there. So we started investing in our business development and project management capabilities." It turned out to be the right decision, as Sanquinnovate quickly gained support from private equity investors.
mind shifts
The expansion of Sanquin into commercial activities via the Sanquin Health Solutions Group (of which Sanquinnovate is a part) has brought about a mind shift throughout the organization. Scientific research has always been paramount, but according to Van den Braak scientists sometimes have to get used to the idea of valorisation. The idea "that it is also very worthwhile to work on solutions that benefit patients in the form of new products and services is a bit of a different angle for a scientist, I think," he says.
The other major shift in thinking involved collaboration with external parties. One of Sanquinnovate's founding principles was a strong focus on partnerships, moving the company away from the more closed-minded mindset of keeping development in-house.
Collaboration with a range of large and small partners, public and private, has led to a whole host of new initiatives. "I think we are really on the way to a kind of network organization," says Van den Braak. "We need the broader ecosystem because we are too small to do developments alone. We can add value to some steps along the chain, but we need partners to get the job done from start to finish."
Public-private cooperation
Research director Gerald de Haan is convinced that Sanquin's collaboration with the private sector is beneficial for all involved. The governance of the organization, he says, is such that research work is never jeopardized by commercial pressure. "I mainly see benefits. It's very important that you keep control and arrange it well so that the revenue flows back into new rounds of innovation. So far it has been working very well. If companies could tell us how to do our work and about which subjects, that would be very problematic, but the way we have arranged things does not allow that."
Consent donors
Van den Braak is quick to add that donors are always asked for permission to use their blood for research and possibly also for commercial products and services. "By and large," he says, "they are very willing to give that consent because donors want to help a patient and are very aware that they are also helping a patient if we use their blood in a diagnostic test or a drug." And if a donor isn't willing to donate their blood for those purposes, well, we don't use it."
Government and research institutions are taking the first steps towards innovation, says De Haan, but the private sector is needed to move forward. He mentions the vaccines against the coronavirus as an example. According to him, its rapid development was only possible thanks to years of research into viral diseases and their prevention, long before the pandemic broke out. But turning that knowledge into the vaccination of millions of people around the world required collaboration with commercial partners.
Creating opportunities
Commercial activities and private financing can also create other opportunities that almost certainly could not be realized with public funds alone, De Haan said. "We want to contribute to new findings that would change the blood bank as we know it. One of the programs we have is the generation of blood cells outside the human body. Incredible, isn't it? That we won't need donors in 30 years." De Haan acknowledges that it is a "utopian ambition", but at the same time the concept is good, he says. And while researchers may be able to discover ways to generate blood cells, it will be up to companies to turn that knowledge into a concrete product at scale.
Growing innovation ecosystem
Sanquinnovate's success is based on partnerships that bring together startups and established parties in the life sciences and health sector. The Smart Health Amsterdam ecosystem facilitates such collaborations and the innovations that result. And to support the further growth of the ecosystem, Sanquin is currently developing a new health and innovation district (HID) around their headquarters. The goal, says Van den Braak, is to create a campus that enables innovation, "bringing together all the startups, scale-ups and so on that need a place to do their work. Who have to use facilities such as laboratories that are too expensive for a startup to organize themselves. We can provide access to that kind of infrastructure and thus help them and speed up the time it takes for their innovations to benefit patients. And Smart Health is very helpful in that, because it's a label that attracts people from all over the world to the Amsterdam region."
De Haan is also convinced that bringing together a variety of partners is the way to make real progress. "Different institutes and individuals have very specific expertise that is often complementary. We may not know what others are doing, but they can be interesting things that we can use. So I think this whole idea of working together, both on a small scale in mixed teams, but also at regional or national level, makes a lot of sense." And according to him, Sanquin is ideally placed to provide the scientific expertise, the infrastructure and a successful valorisation model that will stimulate future innovations.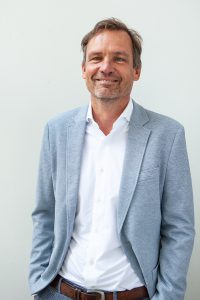 Gerald de Haan, Director of research
Read more
The 25th edition of Medical Data & Pizza reflected the ...

At the Prevention & Health workshop, experts from the public and private ...

The Metropolis of Tomorrow requires bold choices and breakthroughs. The 'Look differently, ...