"No more textiles in the trash!"
Together with the City of Amsterdam, the Amsterdam Bureau Metropolitan Area and many parties from the region, the Amsterdam Economic Board is working on making textiles circular. Within the Green Deal Circular Textiles, various parties are committed to this ambition. "Here in the region there is already a lot of activity in the field of circular textiles," says Claire Teurlings, Lead Circular Economy at the Amsterdam Economic Board.
"In the coming years, many more activities in the field of circular textiles must take place." One of the actions to achieve this activity was the signing – by many parties – of the Green Deal Circular Textiles, last December. "We have two specific goals: we want to have 50% of the textile in a closed loop by 2030: a closed loop. And we want to use 30% recycled material in new products by 2025. " 30% of the materials in, for example, a sweater or trousers must then be either recycled material or renewable material.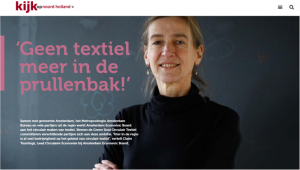 The article was published in Look at Groot Amsterdam .
Innovative frontrunners
"We have a lot of usable discarded textiles in the region and we have companies that can do something with that, such as textile sorter Wieland in Zaanstad and Brightloops in Amsterdam, which makes new clothing from non-reusable textiles." Teurlings mentions these two because they have been working together for years. "They are examples of the important collaborations to close the textile cycle." Wieland receives large quantities of textiles, some of which are still wearable, but to a large extent not. "Wieland has a smart sorting machine for this textile: Fibersort." Innovative frontrunners such as this one attract a cluster of other activities, which means that knowledge, experience and technology are bundled around Zaandam. "
Profitable cooperation
But front runners are not available to order. "The crux is in the business case. It is still difficult to make such a process profitable on a large scale. We need small and large players. " You cannot simply ask large fashion brands to change their business processes. "We are taking steps in the right direction." Teurlings mentions smaller players who sell clothing made of reusable textile, so that new items can also be made from these clothing – which is sometimes hardly worn. Or brands that make their clothing more durable, so that it has a longer lifespan. "It is not up to us to crystallize solutions, our role is to bring experts together and identify: what are bottlenecks, what are potential driving forces and which parties can come up with solutions? We ensure that cooperation gets underway. "
Reusable protective clothing
Another example is the development of reusable protective clothing for healthcare. "Healthcare facilities in the region were short of protective clothing. Together with those institutions and the market, we are looking at how we can ensure that not all kinds of disposable products are purchased, but how we arrive at reusable textiles. In this way we can prevent shortages, care institutions have their own stock in hand and we contribute to regional activity. Moreover, we then prevent disposable items from continuously disappearing into the incinerator. "
Don't throw it away, fix it
Part of the Green Deal is also the Repair Shared Service Center, which arose from the need of fashion brands to offer their customers repairs. "They don't have that expertise, we know parties who do. There is also a need from municipalities to help people find work and the textile and fashion courses have a need for practical places. We bring all those different cake slices together. We are starting on a small scale, but we want to operate on a larger scale in the long run. In five years, nothing should end up in the trash! "
Green Deal Circular Textile
In December, many parties from the region signed the Green Deal Circular Textile . The joint intention is to work on a circular approach to textiles for the next three years: refuse, reduce, reuse, repair, repurpose or recycling and regional processing.
Initiatives
Repair Shared Service Center
Circular Fashion Innovation Lab
Integrating circular principles in textile research and education
Circular procurement of work clothing, including protective clothing for healthcare
Awareness campaign for end users
Connecting?
Do you also want to join the initiative of the Board? Click here for more information and contact Claire Teurlings.
More information
Contact us
Share
Read more
Looking back, saying goodbye and looking ahead were all part of the ...

The Amsterdam region has a tremendous amount of Life Sciences & Health ...

What specific outcomes do your efforts yield? That's a question we'...