In the making: a 100% circular softshell jacket
If we really want to create mass with circular workwear, so-called off-the-shelf clothing with return logistics must also be introduced. During the second Green Deal Circular Workwear meetup, Groenendijk Bedrijfskleding and Texet take us along in the development of such a product: a fully circular softshell. And a call to participate in this circular innovation.
The previous sessions on circular workwear showed that it is relatively easy for manufacturers to make circular specials. However, the companies that attended those meetings indicated that they would also like to be able to purchase circular off-the-shelf products, which they can also purchase in smaller quantities.
In response, producers Groenendijk Bedrijfskleding and Texet joined forces. "You see more and more that manufacturers already call their product 100% circular, but that claim does not always follow the definition," explains Marien Groenendijk. "We wanted to make something that is 100% circular and make sure that it is also verifiable. We thus follow the classification of NTA and then arrive at A1, closed loop recycling with material that has already been worn."
Groenendijk and Texet chose to develop a polyester product, also because the European CirTex project focuses on that. "Recycling is being researched into all other blends and raw materials, but that has not yet been developed as far as polyester. Circular polyester is already there. We can therefore develop a circular polyester product relatively easily. Although only in 'open loop', so not yet recovered from textile flows. But we have to start to get our product into a closed loop."
The development process
Pieter van de Wint of Texet, shows how the circular softshell is designed. "To soTo set up a project — with the 100% circular ambition — all stakeholders are needed," says De Wint. " The producer, the users, the collectors and recyclers: the entire chain has to work together for this."
A circular design is the starting point. The product must be designed for high-quality recycling. In addition, production, packaging and transport must also be organized as sustainably as possible. The use must be monitored in one way or another and a good organization is needed for the collection of the garments. Disassembly is made easy, among other things, by using special detachable yarns for seams, so that the clean parts can be recycled into raw materials for new jackets ( Wear2 ). De Wint: "We have examined each of these steps and it turns out that a closed loop system for this softshell is very feasible."
View De Wint's entire presentation here , in which he indicates for each step exactly which considerations Texet and Groenendijk made.
Soft shell
The companies opted for a softshell. "It is used a lot, it is a fun product to work with and you can also personalize and/or burn it well," explains De Wint. Almost every part of the jacket can be made of polyester: from the base material to the zipper, but also the label, for example. This is important because as many parts as possible are easily reusable.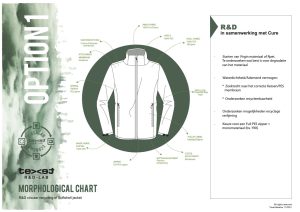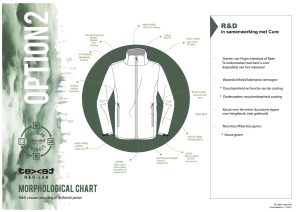 What now?
Texet and Groenendijk want to make a decision together with the users on some points. When that is done, a sample can be made that the Emmens company cure then test. Texet and Groenendijk want to organize the return logistics themselves in order to make it as easy as possible for users. Existing return logistics for textiles can also be used for this, about which Judith Blokland briefly explains something. An LCA is being developed for this softshell to make all the sustainability benefits of the choice of materials, reuse, sustainable logistics and all other aspects clear. It is therefore easy to make comparisons with regular products. You can then see, for example, how this product relates to what you are currently using. This calculation was also developed by Modint's experts in this field (who also do the same for the GreenDeal initiative Hotellinnen).
In order to be able to successfully follow up on the development of the softshell, customers must be able to guarantee an initial purchase of around 4,000 units. This is necessary to be able to continue to guarantee the flows: of course for production, but also for collection so that production can continue. Groenendijk: "We have to keep the masses going in order to eventually be able to make a new product from the same material."
Explore possibilities
A number of potential customers are present at the meeting. They are not yet able to make concrete commitments for purchase, but they certainly want to investigate the possibilities. At some companies the clothing must meet strict safety requirements, other organizations have to deal with strict tendering rules and are therefore hand and foot tied during a cycle.
Obviously, many companies already have existing contracts for their clothing. Many of these 'off the shelf' products come from a few major players. Therefore, check with your own supplier what the origin is and investigate whether the parties in your chain would like to participate in this pilot. This is often possible within your existing contract.
Do you have ideas or questions about how you can support this great innovation? Send an email to Claire Teurlings.
More information
Contact us
Share
Read more
Looking back, saying goodbye and looking ahead were all part of the ...

The Amsterdam region has a tremendous amount of Life Sciences & Health ...

What specific outcomes do your efforts yield? That's a question we'...