Dutch ICs will collaborate and share data to save lives
After Paul Elbers, Intensivist of the Amsterdam UMC had made his appearance at the State of the Region to highlight the importance of collaboration and sharing medical data, he sat at the table in the Op1 program in the evening for a world first to be allowed to share.
Dutch intensive care providers will collaborate on a large scale and share data to improve the treatment of critically ill patients. This data mainly comes from IC equipment such as surveillance monitors and respirators. The combination of treatment data and artificial intelligence can make it clear which treatment works best for which patient. The collaboration is called icudata.nl and is unique in the world.
The collaboration is an initiative of Diederik Gommers of the NVIC (Dutch Association for Intensive Care) and is led by Paul Elbers, MD, PhD, EDIC Intensivist of Amsterdam UMC and founder of AMDS. Health insurers in the Netherlands supports with an investment of 2 million euros.
"During the corona crisis, many intensive care workers shared data on the treatment of corona patients" , says chairman of the NVIC Diederik Gommers, "As a result, we now know much more precisely how to ventilate and which medicines work. " Intensivist and project manager Paul Elbers van Amsterdam UMC adds: "It was great to see that almost all Dutch ICs wanted to participate immediately. So it makes sense to continue this collaboration, because we can also learn a lot from each other outside of corona. "
To watch the Op1 broadcast of Wednesday 2 December, click here: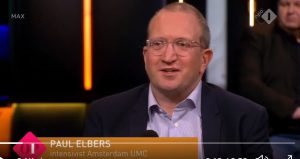 World first medical data sharing intensive care #dataforlife
Support from insurers
Health insurers in the Netherlands supports the collaboration with more than two million euros for the first five years. Hospitals remain responsible for the data, health insurers do not have access to the data. For the project icudata.nl another doctor researcher is being sought, here you will find the vacancy.
AMDS & Smart Health Amsterdam
The Amsterdam Medical Data Science Group (AMDS) is being supported by The Right Data Right Now consortium , which consists out of Amsterdam UMC , OLVG , Free University , Pacmed, Amsterdam Economic Board and Smarthealthamsterdam.com
Smart Health Amsterdam is the network for data and AI-driven innovation in Amsterdam's life sciences and health sector. Join our community here
---
Read the number of publications here :
https://www.icthealth.nl/nieuws/ics-gaan-data-delen-om-behandeling-patienten-te-verbeteren/
https://www.rtlnieuws.nl/nieuws/nederland/artikel/5200886/intensive-care-informatie-patienten-uitwisselen-coronapandemie
https://www.nrc.nl/nieuws/2020/12/02/ics-gaan-data-met-elkaar-delen-a4022408?utm_source=NRC&utm_medium=whatsapp
More information
Contact us
Share
Read more
The Amsterdam Economic Board, ORAM and ROM InWest invited entrepreneurs and governments ...

Preparations for the Zorginnovatieprijs 2024 are in full swing and registration has begun! ...

The Amsterdam region reaffirms its position as a blooming biotech powerhouse with ...