Crisis offers opportunities for sustainable and healthy buildings
Interview with Jan Hein Tiedema, Executive Managing Director of EDGE and member of the Network Council
How do you experience the corona crisis we are in the middle of?
We have now been in the smart lockdown for a number of weeks. The current situation leads to very difficult situations for many; stressful, with potentially very painful decisions to make. Yet I also like to look at the positive points: the solidarity, creativity and entrepreneurship are unprecedented. That is an inspiration to many. The economy in the metropolis has a strong foundation of knowledge and innovation. I talk to many entrepreneurs in the technology sector, among others, and the confidence is great that they will emerge from this situation stronger.
It is too early to define a concrete expectation of the impact on the economy and the office space market. We have made various scenarios and can fortunately conclude that we as a company are in a very good position and want to use this period to emerge stronger from the crisis. We expect a correction in the office market in the medium term. In itself, this may be good for the Amsterdam Metropolitan Area, as there has been a lot of pressure on this market in recent years. Too little high-quality offer, resulting in sharply rising rents.
"We also see that this situation will offer even more opportunities in the field of sustainability and healthy workplaces. Let that be exactly what EDGE stands for."
Fortunately, we see that our construction projects are going well under the circumstances. It's fantastic how quickly innovations are introduced. I think the coronapieper is a good example, which ensures that people stay 1.5 meters apart. The government is also helping to extend working hours to minimize delays. We also see that this situation will offer even more opportunities in the field of sustainability and healthy workplaces. Let that just be true EDGE stands for. It is important, however, that market parties and governments work together to reverse the contraction in the economy and the damaged confidence.
I hope that we will use this moment together to recognize the qualities of the city and the region and use the moment to create a better balance in the future. A city and region with a better quality of life. Let's transform the walls, sacrifice parking spaces so that the catering industry outside is better able to implement the 1.5 meter rule and jointly support all premises. I can see a beautiful and economically strong metropolis.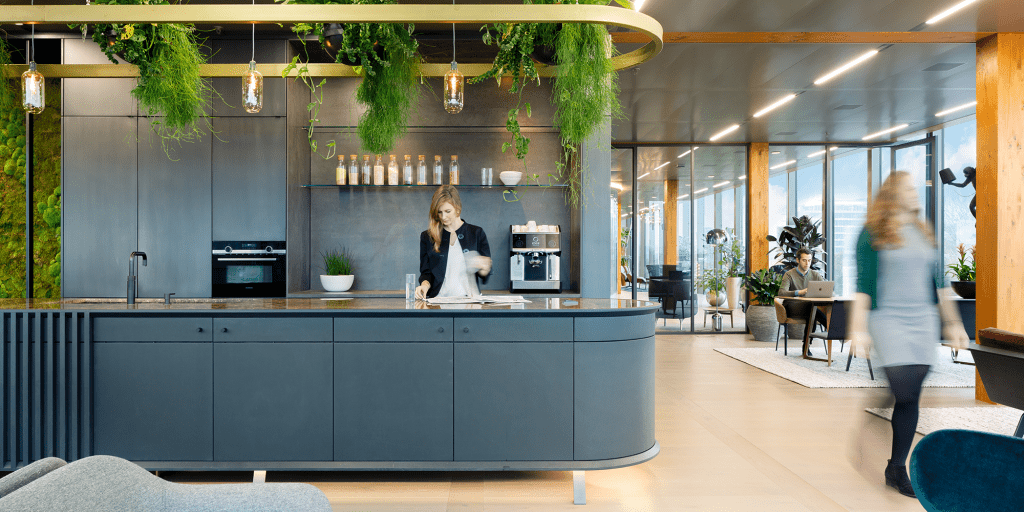 How do you work on the smart, green and healthy future of the Amsterdam Metropolitan Area and with which partners do you work together?
Over the years we have developed many buildings in and around Amsterdam. The Edge was voted the most sustainable building in the world in 2015 and has put us on the map internationally. We want to continue this line with EDGE Olympic Amsterdam, but also with EDGE Amsterdam West . We set very high standards for all EDGE buildings when it comes to sustainability, innovation and health. For this we work together with various partners and suppliers from Amsterdam. Think of: Epicenter , Microsoft , Signify , Beelen and a large network of startups. We are also affiliated with amsterdam & partners , Circle Economy , Green Business Club Zuidas and with you, the Amsterdam Economic Board .
What do you want EDGE Olympic to be known for?
EDGE Olympic is the first building of a new generation of EDGE office buildings. I want users and visitors to experience the building as THE example of a sustainable and healthy building. It's great that people also get energy and inspiration and thus get the best out of themselves. The building generates more energy than it consumes and we also use circular materials as much as possible. Furthermore, the building is designed to create a healthy and stimulating working environment for people.
What is your personal motive in this?
I am fascinated by cities and the constantly changing role they have in the lives of so many different people. For many, a city is a place to work, shop and go out. For me it is so much more. I live in the heart of Amsterdam myself and I also see the challenges our city has: a good quality living environment for everyone, for children, families, and the elderly of all nationalities. And how do you ensure that Amsterdam retains its unique and accessible character?
"Sustainable and future-oriented thinking plays a major role for me. I therefore see it as a privilege to be able to build a better world with EDGE."
How do you see the region in 5 years?
The region is growing fast with all the associated challenges. I see a region that is setting an example in the field of energy transition and sustainability. This requires even further integration between municipalities and of course other stakeholders. As far as I am concerned, choices are made quickly for a greatly improved public transport network in the region. Which is realized at an unprecedented speed. As far as I am concerned, we will not do the poldering. In addition, I hope that we all experience a clear turnaround in decisions (hopefully) taken to strengthen the region as a living and working area. This means that visitors to the region are guests of the residents and not the other way around. That's a genuine concern that I have at the moment.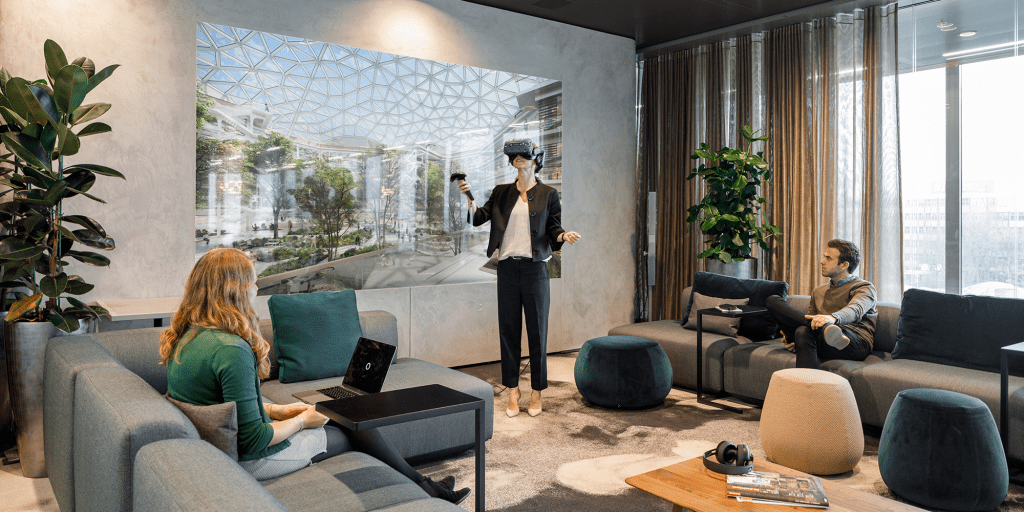 How does sustainable / circular procurement play a role in your projects as an important driver for innovation?
For our company, sustainability is the most important driver in everything we do. For us it is the way to contribute to the goal of becoming 'Paris Proof'. This applies to the projects we do and of course also to our own business operations.
How do you view the challenges the Board focuses on? Where are interfaces with your own activities? What would you like to tackle together with the Board or with other organizations from the region?
We focus on sustainable and healthy buildings. We are convinced that technology makes an important contribution to this. This is relatively unknown territory for us, in which we invest a lot. Our buildings are part of urban development with all the associated opportunities and challenges. Challenges that the Board focuses on. We are happy to be part of issues surrounding the development of 'the' smart city. Think of the energy transition, mobility, health and quality of life. In addition, we are in contact with many companies and organizations, both corporates and start- and scale-ups. We take the knowledge and experience that we gain into what we can do together to strengthen the region's economy.
What do you bring in from your organization?
We are a company that likes to lead the way and is therefore continuously focused on innovation. We do this with a team with very diverse backgrounds, both in terms of education and nationalities. This has enabled us to operate in various countries. We are happy to share these collective experiences.
"We regularly experience that the gap between public policy and the reality of the market is still too great. The world is changing so quickly that it requires more direct coordination."
What points of attention would you like to give the Board?
The Board can create an even stronger connection between the public and private parties. We regularly experience that the gap between public policy and the reality of the market is still too great. The world is changing so quickly that it requires more direct coordination.
Why did you join the Network Council? What is the added value, how does membership help your organization?
The work we do has a local and regional impact. In order to be successful, we work with a diversity of stakeholders, both on the public and private side. The Board broadens our network. Very interesting and inspiring to learn from people who you would otherwise be less likely to meet and who are of course open to sharing knowledge and experience with each other. In addition, we believe it is important to share our knowledge and experience and hopefully we will also contribute to the creation of a better Metropolitan Region.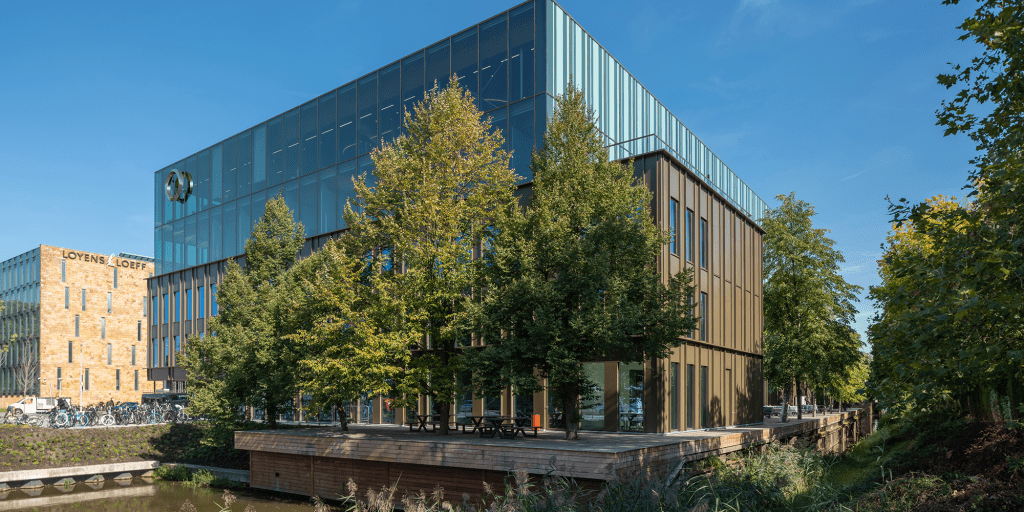 Join our Network Council
Want to become a member also, like Jan Hein Tiedema ? Please contact Marjan Schrama .
Would you like to receive our most important news in your mailbox from now on? Then sign up here for our monthly Board Update.
More information
Contact us
Share
Read more
The Amsterdam Economic Board, ORAM and ROM InWest invited entrepreneurs and governments ...

Preparations for the Zorginnovatieprijs 2024 are in full swing and registration has begun! ...

The Amsterdam region reaffirms its position as a blooming biotech powerhouse with ...