Board Talk: working on the energy transition
With the municipality of Amsterdam as shareholder, the Johan Cruijff ArenA simply owes it to its stand to take social issues very seriously, says CEO Henk Markerink. And they handle that extremely well, says 'neighbor' Hans Wichers Schreur, director of real estate and housing policy at the Hogeschool van Amsterdam (HvA).
This interview took place in February 2020, even before the corona crisis. That is why the photos are less than a meter and a half away.
Wichers Schreur: "The Johan Cruijff ArenA is not only on the map, but is also a pivotal point in Amsterdam Southeast."
Markerink: "The topic of sustainability came to a head in 2010. The City of Amsterdam indicated that it would like to see us as a showcase, a showroom of what is possible in the field of energy transition. Together with all parties who worked here, from the cleaning company to the contractor, we signed a Green Deal: we want to be climate neutral in 2015. "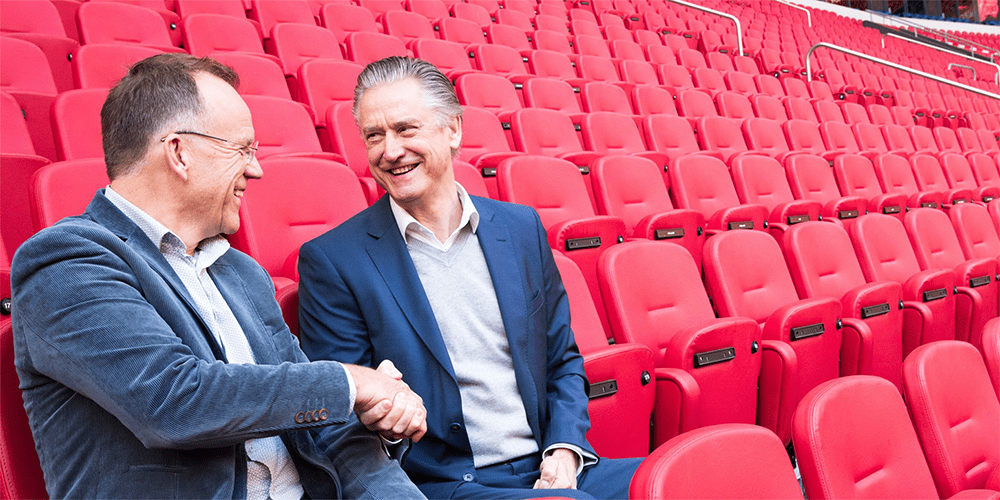 That ball was picked up and in 2015 the stadium was indeed climate neutral, partly thanks to solar panels on the roof and district heating.
Wichers Schreur: "I admire your just do it mentality and I am glad that we are now also investigating together how we can further shape this energy transition."
Markerink: "We are expressly discussing the matter with the municipality and neighbors from the desire to make this entire area climate neutral. I strongly believe in a neighborhood-oriented approach to this issue. If you want to solve it for the Amsterdam metropolitan region in one go, it will be too comprehensive and abstract. That is killing for these types of processes. People disappear into anonymity and deadlines shift endlessly backwards. "
Wichers Schreur: "We try to find the answer close to home and to formulate concrete tasks and objectives."
Markerink: "Acting centrally is far from reality and the stakeholders in a situation. It may even require administrative renewal to get this complex operation done. You have to try to flatten the problem, make it small. Not top-down, but bottom-up approach. Just indicating from above what is not allowed does not work; the government must work with citizens and companies as equal partners. "
The AUAS 'roadmap to a sustainable housing portfolio' will be published in May 2020: 49 percent CO 2 reduction in 2030 and 95 percent in 2050, or earlier as possible.
Wichers Schreur: "Every building we have in the city requires a different approach. Electricity can be arranged, but I think you can only solve the heat demand with the neighbors. "
The plans that the Amsterdam University of Applied Sciences and the Johan Cruijff ArenA are forging together are still in their infancy, but the men are in the starting position to work them out further and put them into practice.
Wichers Schreur: "We can help each other. If you look beyond the boundaries of your own building, you can see the peaks and troughs in energy consumption of nearby companies. For example, a school building is closed in the evening and at the weekend… "

Markerink: "Ha! Then they happen to be playing football here. "

Wichers Schreur: "So forget about building an oversized new infrastructure and shift capacity from one to the other. That way you can solve it mutually. "
'These are subjects that
going right through interests.
It wasn't the auto industry either
who invented the Tesla'
Markerink: "Half of the power plants run passively all day to cope with the peak when everyone comes home in the evening. By sharing energy and installing batteries in which energy is stored, you make half of those power stations redundant. Suppose you ask a baker and a butcher what we will eat tonight, they will answer bread and meat respectively. But these are topics that cut across interests. It is not in the interest of an energy company to shut down all power stations and organize it in a completely different way. So the solutions often come from a different angle. Nor was it the automotive industry that invented the Tesla. "
The parties that are talking to each other about the energy transition in the area include the municipality, ING, ROC, Ajax, CBRE, BAM, Ballast Nedam and Liander. The latter not as a neighbor, but as a discussion partner for the electricity network.
Markerink: "We are investigating the possibilities of installing wind turbines or more solar panels with them."
Wichers Schreur: "The ArenA kicked off and it is now spreading like an oil slick."

Markerink: "The climate in this area is extremely favorable, because there is an investment program of billions on the drawing board. Homes, offices, education, entertainment, everything is represented here. Now we often have to repair afterwards, but soon we will have the opportunity together to build the sustainable city of the future here. By design! We are at a very interesting tipping point. "

Wichers Schreur: "Are there any barriers at the moment?"

Markerink: "The degree of urgency. The water is not on our lips yet, so well, it will be fine: 2030, 2040, 2050. But we have to and can do something now. "

Wichers Schreur: "But that requires a different way of thinking."

Markerink: "Yes. People do not oversee it and find it very complicated: closing a power plant or filling the North Sea with panels? I think it is possible, with that bottom-up approach. As we are now doing here in Southeast together with the municipality and neighbors. We are not going to solve everything with that, but by seeking cooperation, you can achieve a great deal per residential area, district or area. "
The first talks between the parties took place in November 2019 on the occasion of the Amsterdam Economic Board's Board Strategy Day.
Markerink: " All Challenges of the Board – health, digital connectivity, talent for the future, energy, mobility and circular economy – are somehow reflected in our business operations. We benefit a lot from the Board and because we are a kind of laboratory for this area, the Board benefits a little from us again. New technology is not limited to our facade. "

Wichers Schreur: "As AUAS, we can contribute to the ArenA's 'Living lab for a smart and sustainable city'. Education and research naturally have a fantastic place in such a laboratory. There are various students who think along and collaborate on various issues, also in the field of energy. That link was already there. Now we are also trying to apply it in the physical world. "

Markerink: "It is also experimenting, what works and what doesn't work? In June 2018, we commissioned a three megawatt super battery to store electricity. That was not proven technology, so it took some doing. We sat around the table with the fire brigade, construction and housing service, environmental service, you name it. But if you approach potential pitfalls with an open mind and future-oriented, you mainly see opportunities. To this end, many parties will have to make a quarter turn in their thinking. "

Wichers Schreur: "You arrive at solutions from interests rather than from standpoints and these are challenges for the future that everyone at the university of applied sciences is excited about. That knife cuts on different sides. "
Millions will be invested in making university college buildings more sustainable in the coming years, but patience is a virtue.
'Amsterdam always has
a big mouth, so
let's make that happen'
Wichers Schreur: "These types of processes are preceded by extensive financial considerations. It is not just the business case, it is social money that we put into it. We are trying to push the boundaries and the joining of forces here in Southeast may make it possible to accelerate the pace. "

Markerink: "The Amsterdam Climate and Energy Fund financed part of our solar panels and because of the innovative character of the battery, we received a substantial subsidy from Brussels. There is a lot of money. Mr Timmermans recently put another thousand billion euros on the table to shape the energy transition in Europe. Amsterdam always has a big mouth, so let's live up to that and take that lead; we are the best, the fastest and show the world how it's done. Then everyone wants to be on board and money is not an issue. "
In 2020, board members (or their colleagues) will discuss the Energy Transition with each other. What is their vision for taking steps faster and how are they working on it? This is part one of the series.
Text and image: Marloes Levie
Board Talk
The interview with Henk Markerink and Hans Wichers Scheur is part 1 in the Board Talk series. In this series we talk with Board members about the biggest challenges for the Amsterdam metropolis. A region which offers healthy, sustainable living, responsible digitalisation and meaningful work for everyone. These are also the most important themes for the Amsterdam Economic Board. Read more interviews in the Board Talk series.
Would you like to receive our most important news in your mailbox from now on? Then sign up here for our monthly Board Update.
More information
Contact us
Share
Read more
Looking back, saying goodbye and looking ahead were all part of the ...

The Amsterdam region has a tremendous amount of Life Sciences & Health ...

What specific outcomes do your efforts yield? That's a question we'...