Board Talk: "What region are we optimizing for?"
In order to achieve the energy transition, we need to be smart with data. And that can also be done in a transparent and democratic way, think Marleen Stikker and Koen Overtoom. 'I think the system will tilt anyway, but I still find it exciting how we can achieve that.'
It is quiet on the street. Dramatically quiet even, says Marleen Stikker who experiences the new tranquility daily from her home in the Jordaan. "The fact that tourists stay away is in the first place a huge blow for entrepreneurs, but it is also not part of the dynamics of a large city," says the director of Waag Society, the Amsterdam think tank that deals with a scientific and technological perspective. active citizenship and social innovation. "So there may be some pressure back, but in balance. We need to get the economy going, give the entrepreneurs air again and at the same time regain control of the public space in the heart of the city. "
Koen Overtoom as director of the Port of Amsterdam notices in a different way that tourists stay away: no more cruise ships moor in his port. "We have lost about 5 percent in turnover due to this crisis and that is mainly because of that. Goods will continue to flow in this crisis. I do agree with Marleen that we have to look carefully at what follows, how we will manage the return of tourists. At the same time, I don't think everything will automatically bounce back when this is over. I think that it will be survival for many entrepreneurs and that they are happy with every tourist. The question is whether we have what to choose. "
What role is there for the Board now and after this crisis?
Overtoom : "I think the Board can bring together parties who work on initiatives that in turn generate economic activity. For example, the Board and the region are already working on it National Growth Fund , for example with initiatives around hydrogen – what we are also working on in the port – and the metro line from Hoofddorp to Schiphol . "
Stikker: "As a Board, we have to ask ourselves for what kind of city, for what kind of region we are optimizing. I therefore think that the representation of the social side could be a bit more balanced, that not only entrepreneurs and knowledge institutions are represented, but also, for example, healthcare, trade unions and the police. That integrality should be the starting point. "
Overtoom: "Integrality is indeed important. I see that in our area too. We have to make spatial choices between living, working and recreation and are constantly looking for the optimal solution. Take the heliport we have for the trauma helicopter. There can be no wind turbines around that area, which is of course not nice from a sustainability perspective, but essential for good care. In this way we continuously look for the balance. Everything is interrelated at a regional level as well. We have to oversee that entire spectrum and the Board can play an important role in this. "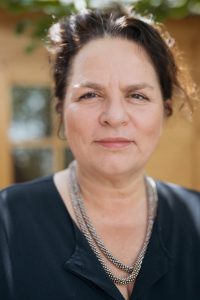 Marleen Stikker
Both of your organizations are involved in the energy transition in the region in different ways. For example, the Waag Society is part of the Internet of Energy, a worldwide movement that is working on a new model for the energy sector. What exactly is that model?
Stikker : "In the current energy system, a few parties are in charge. It is an opaque monolithic system and with Internet of Energy we are working on a multiform system in which providers and consumers can freely join and purchase and offer energy to the network according to a specific protocol. So it actually works just like the original internet. There is a robust infrastructure and there are all kinds of fine-meshed options for connection. Internet of Energy fits much better with all the new ways of energy generation and energy storage that are now available. That is only useful if it is done in a slightly structured way and that is where that model should contribute. In a very concrete way, we are conducting research in a neighborhood in Amsterdam into energy-positive neighborhoods and the role that citizens can play in it.Here we are a research partner of the municipality of Amsterdam, which is once again part of the European Atelier program . In this project we see that people like to get started with this and that there is a lot of knowledge in the social domain. The involvement is great, the willingness to cooperate with the municipality is great. But it must be genuine: it must not be a sham participation. People are now too involved in this issue for that. And not just the climate enthusiasts. "
Overtoom: "We actually also use a form of Internet of Energy in the port: we are it in the port Shared Energy Platform started, a separate company in which we connect the sources and the consumer directly and use the existing energy network to distribute the energy. We have started with a link between the solar panels and windmills in the port to the shore power for river cruises. And with that alone we were able to push the energy price down by 30 percent. We now offer companies in the port the opportunity to share their data and therefore make much smarter use of the energy grid. We also want to facilitate source diversification for the heat network from the port, so that we have good alternatives if the Waste-to-Energy Company starts burning less due to the circular economy. Then we can use the heat from a data center, for example, or the heat from certain production processes in the port. The more data we eventually cross-link, the better we can achieve that. "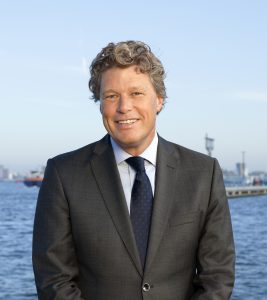 Koen Overtoom
Sharing and connecting data in a good way thus appears to be an important condition for the energy transition. For example, the Board works with AMdEX on a reliable data market. What are your thoughts on responsible data sharing?
Overtoom: "We are now in an exciting phase because those energy companies still have a lot of power and they don't want to let go of that power yet. While the initiatives that Marleen describes and that we are working on are based on a completely different system. I think the system will tilt anyway – because there is a majority that wants that – but I still find it exciting how we can achieve that. "
Stikker: "The current revenue models of the energy market do not indeed correspond to what the energy market is now becoming. You may even wonder whether energy should be a market. Energy is a basic need and that is why I see it as a commons, a common good, around which a market can develop. We have to generate energy and we make all kinds of choices in which revenue models are conceivable. But that is different from assuming that energy is a market that we then have to regulate. Look at the internet. Like me in my book The internet is broken also write, we have come to see the internet as a kind of market and its public value has disappeared. Now we are trying to push back with a great deal of force the escalations of that market in which a few parties have the power. I hope that we have learned from that and will now use Internet of Energy to ensure that not a few parties get their hands on the data and can then operate with algorithms in their black box. We have to look for a structure of maximum transparency, within which money can be earned as usual."
Overtoom: "Nowadays a lot of money is indeed being made with data. That is not what we want in the port: we want to use that data to optimize. We can show that customers benefit from sharing their data, that they retain ownership of their data and then you see that they are also willing to share that data. "
Stikker: "The idea that you should give up your privacy in order to benefit from data and algorithms has been a false proposition. We really have to get rid of that. "
Board Talk
The interview with Marleen Stikker and Koen Overtoom is part 9 in the Board Talk series. In this series we talk with Board members about the biggest challenges for the Amsterdam metropolis. A region which offers healthy, sustainable living, responsible digitalisation and meaningful work for everyone. These are also the most important themes for the Amsterdam Economic Board. Read more interviews in the Board Talk series.
More information
Contact us
Share
Read more
Looking back, saying goodbye and looking ahead were all part of the ...

The Amsterdam region has a tremendous amount of Life Sciences & Health ...

What specific outcomes do your efforts yield? That's a question we'...