Board Talk: 'Invest in sustainability to let the economy flourish'
The energy transition is being delayed somewhat due to the current corona crisis. But Franc Weerwind and Hans Bakker note that there are also plenty of opportunities: not only thanks to high-quality new technology and new companies, but also in heavy industry and an abundance of unpicked low-hanging fruit. "What we do in terms of sustainability is unique."
The current corona crisis is hitting the Amsterdam Metropolitan Area hard economically. What do you think the impact of this crisis is on the energy transition?
Hans Bakker: "Until the corona crisis started, I saw a great willingness at many companies to work on the energy transition. They made plans to invest or have already done so. In most companies that are hit hard, these types of investments have now come to a standstill. That is very understandable: they are surviving. "
Franc Weerwind: "I recognize that. At the same time, there are also larger companies that are struggling and that nonetheless invest countercyclically in the energy transition. From the idea: the pre-corona time will not return. Now is a good time to reconsider. Also for us as a government. We were already having a hard time financially due to decentralization and this crisis is now on top of that, in which we mainly try to keep investing to keep the economy going. "
Bakker: "On balance, the impact on the energy transition is not positive – it will experience some delay, but what Franc says is correct: there are also organizations that will continue.k Within VNO-NCW, for example, we have the Green Growers (de Groene Groeiers), a platform consisting of more than 400 companies that invest in the circular economy and energy transition. This is a very lively club that share knowledge and business cases and that continues unabated – even now. In addition, we see, for example, that greenhouse horticulture, which is greatly affected by the crisis, is still running all kinds of sustainability programs."
Weerwind: "During the Floriade in 2022 (the world horticultural exhibition that the Netherlands organizes every ten years and is in Almere in 2022, ed.) we hope to be able to show a lot of that innovative power. Despite the fact that it is currently difficult to find sponsors, the city council decided to continue last year. Because we believe it is important to show the sustainable technology of the future to the rest of the world, to learn from the other countries that are coming and to use that legacy to scale up the energy transition in the MRA. As a government, it is our job to keep this on the agenda. We do this by stimulating: for example, our assignment is to realize thousands of homes, where I see opportunities to boost the construction sector. We investigate: for example, how we could use geothermal energy to heat our homes. In addition, we are setting a good example by now installing solar panels on all government buildings in the municipality. "
Bakker: "That is a good goal. At the same time, there is still a large area of surface that is not used for that. Full of amazement, I keep driving past all the gigantic distribution centers, of which there are also quite a few within your municipality. I understood that investors are not too keen to put solar panels on them because this does not suit their business model. And insurers are not keen either. Shouldn't there be regulations that require a certain percentage to be covered with solar panels at least?"
Weerwind: "I fully agree with that and fortunately the regulations will also be introduced. I'll look it up – yes, from 2022 we as a municipality can make solar panels mandatory. This will help accelerate the energy transition."
Bakker: "That's great. Things like these are bound to bring progress. At the same time, the government must also inspire and inform. Tell entrepreneurs that the energy transition is not only about complex technology and expensive innovations. I think there is also a lot to be gained in simple things. By going back to basics: unplug your electrical devices and see where you can save. In 2004 I did the same as director of the RAI Convention Center. When we replaced all the NEON lighting on the outside with LED and switched it off between two and six at night, we already saved 95 percent on that outdoor lighting."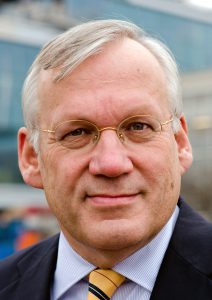 Hans Bakker
What do you think of the current role of the Amsterdam Economic Board?
Bakker: "What we do in the field of sustainability is unique, which makes us really ahead of the pack compared to other economic boards. That's a good thing: after all, we have to invest in sustainability now in order for the economy to flourish in the future. I think LEAP is a fantastic example of this: saving energy while we process more data."
Weerwind : "We agree on that. As a municipality, we are a partner of LEAP, which stands for Lower Energy Acceleration Program . We want to establish a new data economy in our region. There is plenty of room between Zeewolde and Almere for a hyperconnectivity cluster to which the data cables arriving in Amsterdam can be connected. Then we have to think about how we can use that residual heat to heat houses. We participate in this initiative because you need us to literally create space. Moreover, I think we can bring parties together."
Bakker : "I do think the Board can widen its vision a bit. This focus on sustainability should not only be about the new technology, as I just said. I think we can involve the heavy industry in our region even more. Take Tata, the energy consumed there almost nullifies everything we save with other initiatives. What would help is to make lessons from the heavy industry more available to the business community as a whole".
Weerwind: "I was allowed to be mayor of Velsen for some time and then I gained a lot of respect for Tata. I saw how the steel company is an example for other steel companies in the world, because it is constantly working on innovation. I also think it is special that they have opened their business school and turned it into a fully-fledged pre-vocational education."
Bakker: " Indeed, this could be done with more companies in the region and we, as a Board, could help them to show more widely what kind of precursor they are in the world steel industry."
Weerwind : "As an MRA and as a Board, we can also take a closer look at other regions. How Eindhoven deals with the university and uses its spin-off companies for the entire metropolis. In Brainport Eindhoven, the 'triple helix' –– the collaboration between government, industry and educational and knowledge institutions –– jointly determines the strategy for maintaining and strengthening the regional innovation ecosystem. The Brainport Foundation and the Brainport Development development company are working on this. I also find the digital resilience in the Rotterdam / The Hague region interesting. The port there has invested a lot in cyber security after that major hack at Maersk in 2018, which also touched them. Our port and Schiphol should certainly also learn from this, because of the crucial and therefore vulnerable nature of the infrastructure in the Amsterdam region. "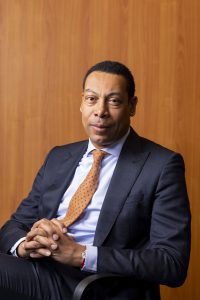 Franc Weerwind, Feenstra Photography
Which thought leaders inspire you?
Bakker: "I don't have so much a thought leader in mind, but more of a do leader: Renzo Deurlo, the director of GreenFox Social Return. They second people with a disadvantage on the labor market. At the time, Green Fox helped us at RAI Convention Center by replacing all luminaires with LEDs. People with a disadvantage on the labor market worked on this for four months. I thought it was great to see how greening was combined with social profit there."
Weerwind: "For me that's absolutely Jacqueline Cramer. She ensures that this topic, the energy transition and the circular economy, remains on the agenda continuously. Full of enthusiasm. I find that very inspiring."
Board Talk
The interview with Franc Weerwind and Hans Bakker is part 10 in the Board Talk series. In this series we talk with Board members about the biggest challenges for the Amsterdam metropolis. A region which offers healthy, sustainable living, responsible digitalisation and meaningful work for everyone. These are also the most important themes for the Amsterdam Economic Board. Read more interviews in the Board Talk series.
Read more
More information
Contact us
Share
Read more
Looking back, saying goodbye and looking ahead were all part of the ...

The Amsterdam region has a tremendous amount of Life Sciences & Health ...

What specific outcomes do your efforts yield? That's a question we'...