TOMAS CONNECT #4: Attracting and keeping talents
On Friday October 7 the fourth edition of TOMAS CONNECT took place in Amsterdam. Moderated by Mark Wijsman, 10 companies and 11 initiatives came together at Zoku to get the most recent picture of the local talent development ecosystem, pitch their needs, engage in strategic discussions and have 1-on-1 matchmaking with the local heroes.
They were welcomed by TOMAS co-founder Igneta Skliaustyte, who stressed the importance of the matchmaking platform: "We founded TOMAS to make connections, so that you can learn from each other and together find sustainable ways for recruitment as well as some long term pipelines — not just short term solutions."
Highlighting the initiatives that make up the ecosystem: "You train more than 2.000 people every year. And besides that, you add huge diversity to the talent pool and you activate underrepresented communities, for example people with a refugee background. You tap into those hidden spots and you also train soft, hard skills and you help them with careers. So it's incredible work that you do. And just imagine how much impact would you make with even more recognition and more partnerships."
"Amsterdam is a very, very hot market"
To help create those partnerships, seven tech companies were invited to share the challenges they face in hiring and retaining tech talent, pitching directly at the participating initiatives in the audience.
Sheyla Saadat, who was introduced to Xillio while at Codaisseur, was the first to take center stage. "I'm the live example of the collaboration that we are looking for today. We are one of the best in the market as we are, because human knowledge is sustained within our company. Of course it is a challenge to find synergies, but with establishing partners like Codaisseur we manage to handle this challenge. Our pipeline is almost always full. What we would love to hear from all of you is your experience with retention policies."
For Dott the biggest problems are the junior to senior ratio, gender diversity and sustainable recruitment. Gunjam Sharma: "I want to be honest with you. It's a challenge because Amsterdam is a very, very hot market. So I would like to know from you, how do you keep them with you? Even before I knew TOMAS, we partnered with Codam, one of the initiatives who is here today as well. The biggest achievement that I have seen with them is that we hired their interns, and that's what we're looking for. We want to have local talent and we want to hire them full time. That's the goal."
TomTom tackles this problem with a hackathon, providing students with opportunities to take on real life challenges. "What not a lot of people know is that we are essentially a software company", explains Mariya Findzhikova. "TomTom Next is our global student hackathon. We're going to be providing students from top tech institutions with mentorship from our TomTom experts and we hope to meet them in an informal way, talk to them and hopefully be able to provide opportunities to some of the participants."
Allain Silbernberg from Ultimum challenges participants at TOMAS CONNECT #4 to work together: "People are our largest asset. How to keep people on board? It's a challenge. Let's make things together. That's actually what I call for."
2solar's Bob van de Worp brings up the topic of purpose. "Our people really like the fact that we are a sustainable energy company. It's not the reason people come, but it is a method for retention. People do like to work for a company that has something extra besides generating revenue for shareholders.
"We're starting to see a trend where senior developers from the likes of Google and Facebook are heading towards smaller startups with a much bigger sustainability and kind of stronger contribution to environmental impact", adds Stylexxa's Tumelo Setlaba, who is looking for affordable and talented people to join the fashion start-up.
"If you want to work for Elsevier, you can make a difference in technology combined with health care and math science as well. So that's something I always tell my applicants and candidates", shares recruiter Eli Marques. "There are a lot of possibilities at Elsevier. Please feel free to reach out to me."
"We are all very scared of rejection"
Following the first matchmaking round, in which the initiatives and companies could get to know each other and discuss actual opportunities, guest speaker Sarah Elbadr-Boers from Amsterdam Diverse & Inclusive gives some ideas on how to stimulate diversity and inclusion at the workplace.
"We tend to click with people that look like us, people that we recognize ourselves in. People will hire people that look like them. I'm sure you've all heard this narrative before, but it's one of the main things that will mean things that will go wrong. But the funny thing is that we usually think that we don't do this when we hire someone. We think we'll go for the best match. But who decides what the best match is?"
It works the other way around as well. "If you are looking for a job, you will check the company's website and see how many people look like you. And this is very natural because we are all very scared of rejection."
These things can be fixed with a good diversity and inclusion plan, and that is what Amsterdam Diverse & Inclusive gives free advice for. "The goal is to not only get people to apply for jobs with you, but also to make sure that they decide to stay at your company."
Sarah shares from personal experience: "I found a company once where on the website they have lots of pictures with different cultures, but when I got there, everyone actually conformed to what is expected of them. So you might have diversity in cultures or genders, but you're not going to have diversity in perspectives because no one feels safe to be themselves."
"There's many different aspects of diversity and inclusion and attracting people is only the first step, as you all know and have heard many times today," concludes Sarah.
"I became my future self at HackYourFuture"
Before the final matchmaking round, sharing their success stories on stage are HackYourFuture alumni Bachar Daowd and Lama Gharib, joined by Partnerships Manager Federico Fusco.
HackYourFuture offers a seven month web development training for people with a refugee background. After the program students are introduced to employers to start with an internship that might lead to a job. HackYourFuture has been around for six years now, and helped 250 people into jobs.
Bachar Daowd is one of them. "I worked as a social worker, so I was busy solving people's problems. I came here and being a refugee, I found HackYourFuture. The first time I applied I was rejected, as I was the second time. The third time I was actually accepted. And really I found myself there. I found a job and I was born again. I became my future self at HackYourFuture."
How does that make Federico feel? "I go to these events quite often and we talk a lot about diversity and inclusion, which I think is very important. But one of the things that we struggle with the most is to get companies like the ones that are here to hire junior talent and to actually give the opportunity to do an interview. There are so many initiatives that are actually pushing diversity and inclusion, but it's still the biggest challenge to get our students interviewed."
The text continues below the image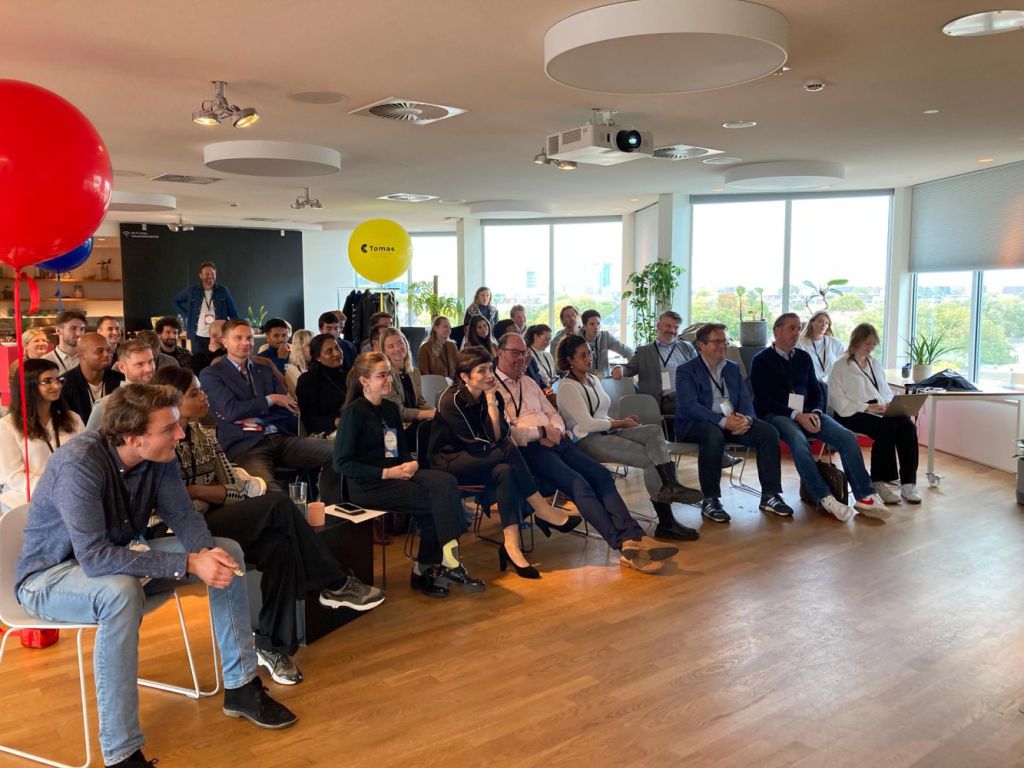 In addition to programming skills, the most important thing is mindset, says Lama, who used to work in banking. "And to learn how to teach yourself new skills to start with. I think that's the most important thing that I took from HackYourFuture. Now I know how to start learning things from zero and how to approach and solve problems."
Now with a consulting company, Lama found HackYourFuture prepared her for working at a company: "At the beginning, I thought that I didn't and I was scared. But HackTheFuture is actually kind of simulating reality. You work with a team in an agile system. So we are ready to start."
Federico adds: "The cool thing as well is that most of the education is done by volunteers. And we focus not only on technical stuff but also on social skills so that we can actually help our students to get that job in the end. There's a few hundred people involved in helping people like Lama and Bachar to really get ready, because for us it starts with an internship that leads to a job. But we continue working really closely with our students until they find a job that can pay for their bills and support the people they love. So that's what really gets us going."
Bachar found himself a coding job at ABN AMRO. "They are supporting a lot of newcomers  and refugees. People coming from Ukraine and from Iran. We showed them my CV and my projects and they told me, if you are  hired, you should learn Java, Azure and some other technologies. So actually that is what I say about HackYourFuture. It's not a process of learning only coding. It's a mentality that you have to always grow and learn something new. So I was so excited and I actually began working at ABN AMRO."
"The companies we work with really find business value beyond diversity and inclusion as well", says Federico. "So talk to our students. I can sell the world because I have people like Bachar and Lama saying, you changed my life. Yeah, that's beautiful."
The next TOMAS CONNECT event takes place in Flevoland and is all about the technical sector. Are you a company or talent initiative looking to pitch or participate in the event? Reach out to our community manager Björn Schouten via bjorn@vraaghettomas.nl. 
Read more
The 25th edition of Medical Data & Pizza reflected the ...

At the Prevention & Health workshop, experts from the public and private ...

The Metropolis of Tomorrow requires bold choices and breakthroughs. The 'Look differently, ...