TekkieWijzer helps to choose when learning and working in IT
TekkieWorden.nl, the guide to studying and working in tech, introduces the 'TekkieWijzer'. An online assessment that allows participants to discover tech jobs and education appropriate to their skills and talents. A voyage of discovery in which all possible career paths within tech are followed. The result is a proprietary tech profile, to which a roadmap to relevant studies and jobs is linked. TekkieWijzer is part of a roadmap for retraining to IT. From introduction to orientation and training. The TekkieWijzer is an initiative of TekkieWorden, FutureNL, iamprogrez and Rabobank Foundation.
Despite the corona crisis, the Netherlands is struggling with a shortage of tech and IT talent . It is expected that this shortage will continue to increase in a society that, partly under the influence of the corona virus, is progressively digitizing. In an earlier phase, the IT study guide 'TekkieWorden.nl' was introduced in order to cope with the shortage of IT professionals. This provides insight into the full range of 450+ IT courses in the regions of Amsterdam, Utrecht, Rotterdam and Almere on one platform.

"The TekkieWijzer is fun, challenging and useful for people who aspire a career in tech, but also for people who have never considered a tech career. If you don't know what you don't know about the IT job market, you're missing out on opportunities. With the TekkieWijzer you find out which type of tekkie is hidden in you, and which jobs and tech studies go with it. In this way, we make the tech world accessible to everyone and at the same time, prejudices about working in tech are debunked ", says Floor Vink, Project Manager TekkieWorden.
Match skills and talent to IT studies and jobs
The TekkieWijzer is freely available to everyone and is particularly relevant for employees who are or are at risk of losing their jobs due to the corona crisis. The online assessment tool matches job seekers with studies and job profiles in IT. De TekkieWijzer thus solves the problem of the lack of understanding about which IT jobs exist, what related tech studies are and how these fit with talent and personality. Introducing later this year FutureNL Foundation an extension of the TekkieWijzer. This allows students from secondary education to put themselves in the shoes of a real tekkie. This way they can discover for themselves what they can do with the tekkie tools and where they can acquire the necessary knowledge.
"Jobs are digitizing, automating and robotizing more and more quickly. We know that this is precisely why tech-related soft skills (think of 'digital dexterity', for example) are the skills that the labor market will fight for in the coming years. So it's not just about your technical skills – you will learn them. It is mainly about what soft skills you have and how well they match with tech jobs. The TekkieWijzer shows where your hidden talents in the field of tech lie ", says Edwin Levels – CCO iamprogrez.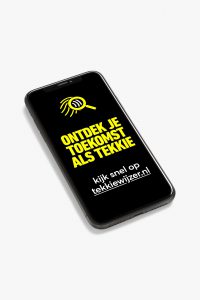 Towards more diversity and inclusion in tech
In addition to actively reducing the shortages of tech talent together with training courses and employers, the initiative contributes to diversity, inclusion and equity in the tech world. Within the IT labor market, several studies show that there is a growing need to strengthen the diversity in the workplace. TekkieWijzer is going online as part of the program tech guide TekkieWorden, tackle these issues by dispelling ignorance about what tech and IT jobs exist and are appropriate.
"As a bank, we see the negative impact on employment and the need for many to retrain in promising professions, such as IT, where the demand for talent remains high. We support TekkieWorden to make the orientation towards IT retraining easier and thus increase people's opportunities, says Barbara Baarsma, Chairman of Rabobank Amsterdam.
About TekkieWorden
TekkieWorden is the guide to working and studying in tech. TekkieWorden wants to make the potential of tech jobs and IT studies visible and accessible to everyone and the initiative is committed to activating people of all ages, all backgrounds and all thinking and working levels to IT. TekkieWorden is an initiative of Rabobank, Booking.com, TomTom, CA-ICT training fund and TechConnect. It receives support from partners such as the Amsterdam Economic Board, the Municipality of Amsterdam, Doghouse Recruitment, Rabo Foundation, Zuid Holland Board, the Municipality of Utrecht and the Municipality of Almere.
More information
Contact us
Share
Read more
Looking back, saying goodbye and looking ahead were all part of the ...

The Amsterdam region has a tremendous amount of Life Sciences & Health ...

What specific outcomes do your efforts yield? That's a question we'...