Quickstart ICT – purchasing with impact
The Board is organizing a Purchasing Track that started in November. The aim by the end of 2021 is to have a sustainable impact for at least 10% of the facilities' purchases of each organization, and at least 50% by 2025. To this end, a diverse group of participants will start making a facility purchasing process sustainable in their own organization. Think of work clothing, catering or ICT. In sessions they can share experience and knowledge with colleagues from other organizations. In this way we build a network and we make an immediate impact.
This article provides an overview of sources and further information to get started immediately with purchasing with the impact of ICT. It is based on the report (in Dutch) Naar een circulaire keten voor ICT-hardware, by the Utrecht Sustainability Institute, funded by the Amsterdam Economic Board.
Source: The Shift Project (2019)
From car mechanic to banker, hardly anyone can work without a computer anymore. To download an instruction, find directions or for an online meeting. Our society and our work digitize continuously. We see digitization not only as a condition for work, but also as a key to tackling social issues, such as the climate challenge.
To enable this progressive digitization, organizations are purchasing more and more hardware, software and ICT services. Consider, for example, workplace ICT such as keyboards, mice, screens, laptops and desktops, but also mobile phones, printers, WiFi and cabling to connect everything. Not to forget: the servers on which all the data we collect is stored and processed x, in-house or in a data center.
Fact: installed servers span over 160 football fields and with an annual growth of 10%, the Netherlands is the number one data center hub in Europe, with the center of gravity in the Amsterdam Metropolitan Area (MRA).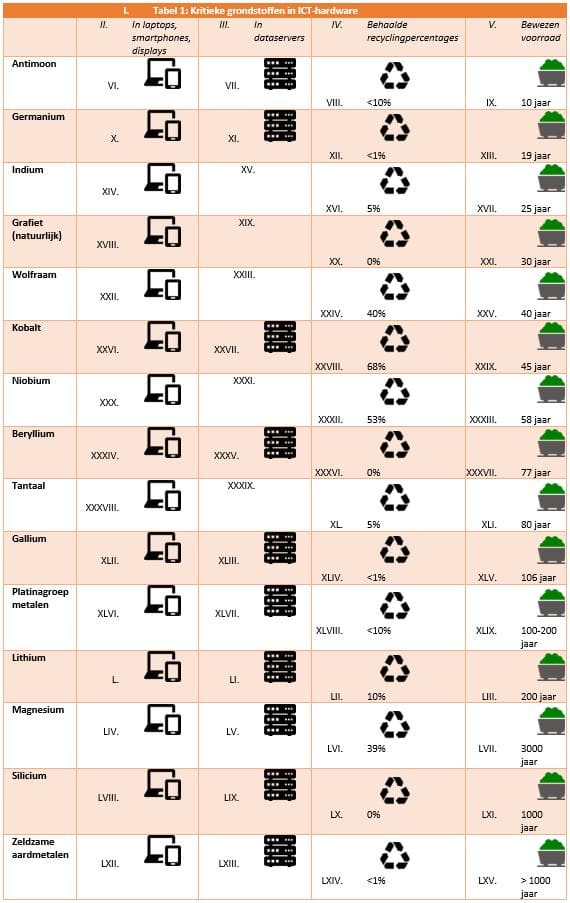 Source: European Commission.
A lot of ICT waste is created by short depreciation periods: up to five full trucks every day. Not only laptops and telephones are discarded too quickly, half a million data servers are also thrown into the trash every year. And this trash can is often located in Africa or Asia, where dumping releases toxic substances.
At the same time, this flow of prematurely discarded hardware is so great that it should be feasible to link circular revenue models to it. For example, the refurbishing (with the original warranty) of telephones. Great work for highly skilled IT professionals in and around a metropolis like Amsterdam. But also urban mining, in which valuable materials are removed from the ICT waste mountain, is a (slowly) growing market.
The R ladder, which has been specially drawn up for ICT, shows you at a glance which actions you can take as a purchasing organization.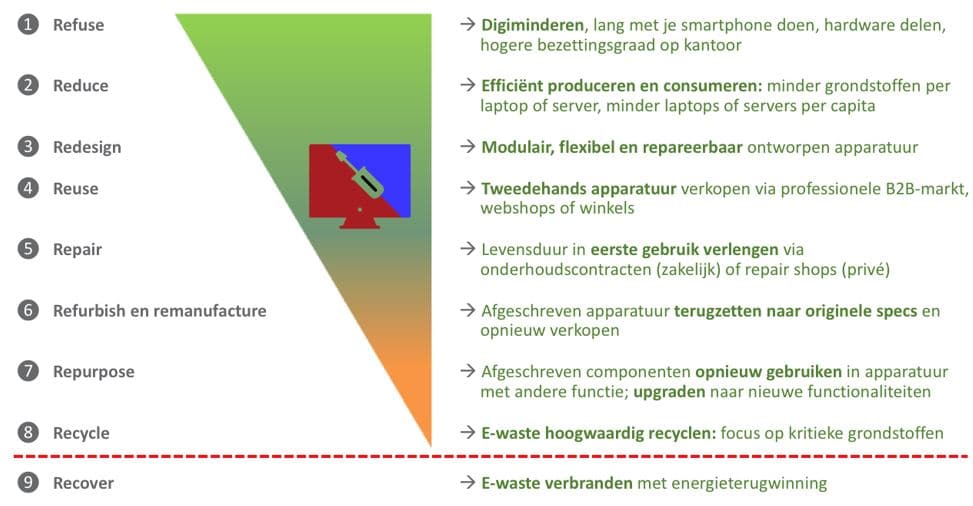 Digi decreasing is at #1. By using ICT longer, less energy and materials are needed in the production phase. Using existing laptops for longer, for example, produces more CO 2 -saving on replacement by more energy-efficient new laptops. And also take a critical look at whether you can do with less equipment, which you may use more intensively. Is a printer really necessary on every floor? Do larger screens really add value? Can desktops be used every day, regardless of a different office occupancy? And is all the data and software that you have at your disposal still relevant and necessary? The great thing about digital reduction is that it immediately saves costs and the economic value of what you do use is high.
The term of use is now dictated, among other things, by trends, improved features and rapidly changing usage options. But often also because of an ingrained idea of depreciation. The 'economic life' that arises as a result is often shorter than the technical life of equipment. If you want to last longer with existing things, you have to convince your colleagues. They may now brag about a new gadget or program, while they will soon have to work on their laptop for a year longer. Certainly for organizations that work with 'bring your own device' this requires a mental change. System administrators will have to make an effort to keep older equipment up and running or to conclude good maintenance contracts. This will probably require additional knowledge and training and certainly a firm attitude towards suppliers who will often emphasize technical 'best before date'. With internal resistance, your communication colleagues can help you, for example with an internal campaign.
Many devices, including data servers, have an eco setting that optimizes energy consumption. This is by no means always used for fear of a poorer performance. We have now concluded from a number of LEAP pilots that with the eco setting on data servers, which is often easy to switch on, the performance is just as good and about 10% energy is saved. To help you, a Happy Flow manual (v1.0) has been developed together with hardware and software suppliers, with steps you can take to set the eco setting.
Instead of owning things yourself, you can also consider leasing or renting them. If you pay for the use (pay per use / seat) or ICT as a service, you'll leave your energy consumption, maintenance, ownership, management and service with external specialists. They benefit from steering towards low energy consumption, long use and a high residual value at the end of the use phase. In order to 'buy' with impact, it is also important here to use good criteria in selection and in contractual agreements. Agreements about the type of energy consumption, the use of the eco setting, longer lifespan of the hardware or what happens to the items after replacing equipment. There are even options for contractually establishing future circular use.
Moreover, with such a contract you can easily scale up or down as your organization grows or shrinks. And that makes a big difference. Just like at a party at home, you can easily buy too much. You don't want to run out. Up to 60% of our own data servers are purchased in excess and many are running unnecessarily, according to sector experts. Do you choose platform as a service then do not buy or lease hardware but only cloud services. These often run on servers in energy-efficient (hyperscale) data centers.
Please note: a perverse stimulus can arise. Due to the efficiency of hyperscales, these are also relatively cheap for their customers. This ensures that there is hardly any obstacle to storing and using data. As a result, global data growth – and associated energy and material use – only seem to be accelerating.
To get an idea of the environmental effects for the different scenarios on the R ladder for ICT, take a look at this calculation tool (in Dutch) from PianoO, which provides insight into the avoided CO2 and the materials saved. This certainly helps if your organization already focuses on CO2 agreements, for example.
Read more
Day and night, 114 sensors are collecting data about the use and occupation ...

Successful trial of circular protective healthcare clothing results in increased comfort, less ...

The Metropolis of Tomorrow requires bold choices and breakthroughs. The 'Look differently, ...