Mapping the Talent Development Ecosystem
The corona crisis has resulted in a huge contraction in the catering, transport and transport sector, temporary employment and travel sector, industry and healthcare services. Layoffs and bankruptcies are becoming reality. At the same time, there is a great demand for talent in sectors such as technology, ICT, education and healthcare. It is more necessary than ever to support lifelong learning and upskilling and retraining. Together with partners, the Amsterdam Economic Board has taken the initiative to create a tool that can support the effective deployment and development of talent initiatives in the region. The prototype is now a fact.
Substantial investments are being made in the Amsterdam Metropolitan Area in developing new skills and innovating education. In recent years there has been a rapid growth and diversity of new courses such as IT academies, public-private initiatives such as House of Skills and TechConnect and customized solutions aimed at specific target groups. The lack of a good overview makes it difficult for many parties to properly use and benefit from the talent development ecosystem. It hinders investment decision-making and finding the right connections. It leads to inefficient use of resources, fragmented solutions, reinvention of the wheel and blind spots in talent development. Moreover, the green, smart and healthy ambitions of this region are only possible if they are supported by the agile development of human capital.
Prototype Talent Development Ecosystem Guide
Together with Amsterdam University of Applied Sciences, StartupAmsterdam, the Municipality of Amsterdam and Bureau Metropoolregio Amsterdam, the Board has started a project to efficiently open up initiatives in the region in the field of talent development. Extensive scientific research was conducted, interviews were conducted with triple helix parties and focus groups were organized. The output is a prototype made by Digital Society School. This prototype uses fictitious data. In the next phase we will build the real tool based on "real data" from the region. The first reactions to the prototype are very promising.
Target audiences
Find with the tool businesses soon find their way into talent development (eg training courses for tech jobs or retraining to care professionals) and insight into how they can contribute to talent development in the region (eg offering internships). Knowledge institutions & talent initiatives are given the opportunity to make the right connections with relevant target groups and increase visibility. Governments it provides an up-to-date overview for investment decisions and efficient allocation of resources.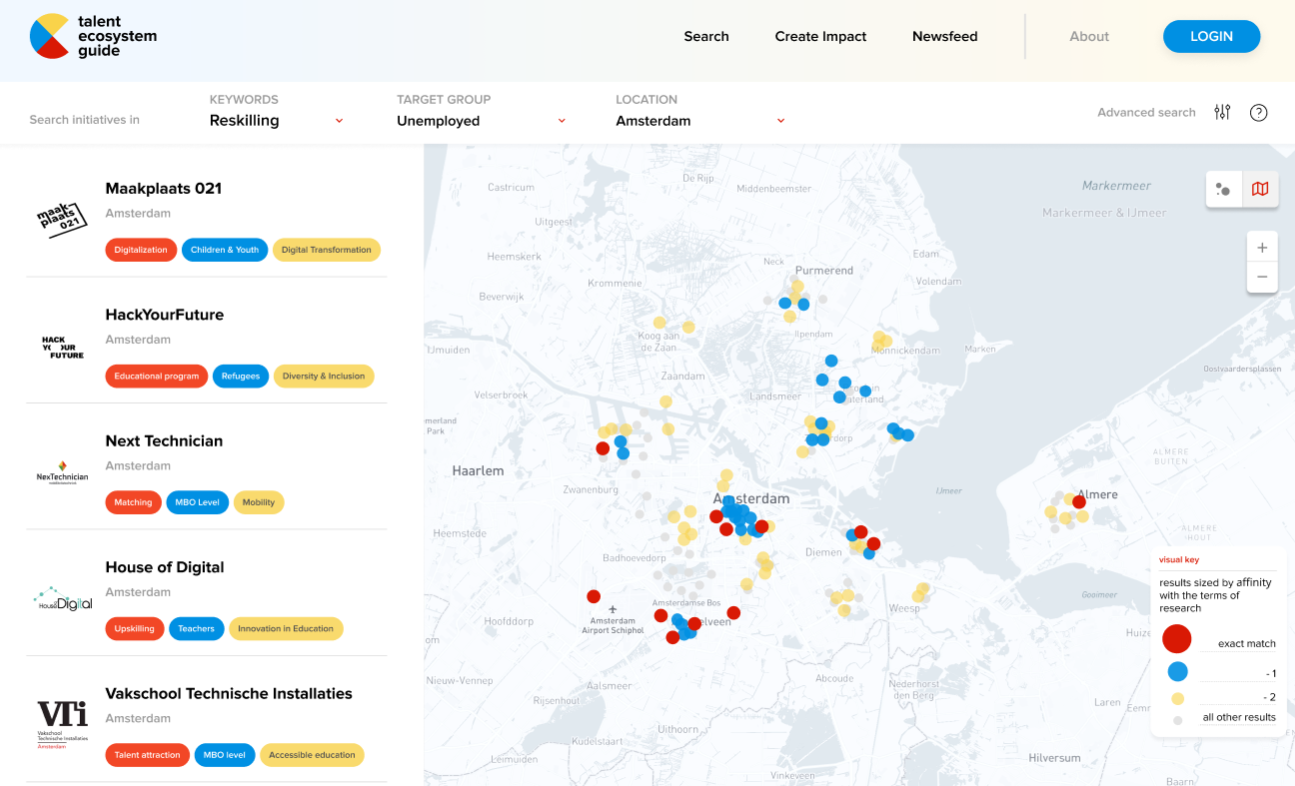 Next steps
The first phase in our search for a solution for a Talent Development Ecosystem Guide has been completed with the making of a prototype. The follow-up phase focuses on, among other things, applying a sharp focus (for example energy transition and circular economy), financing and a governance & partnership model.
Join!
Are you looking for an overview of lifelong learning, retraining and further training initiatives in the region and / or do you want to help validate the guide? Please contact Natalija Counet , Challenge Lead Talent for the Future.
Read more
Smart Health Amsterdam is merging with Amsterdam AI. Geert ten ...

Bringing people together to accelerate important developments: the Amsterdam Economic Board and ...

Health prevention was the theme of the working dinner that Amsterdam Economic ...