Investment agenda is working on the transition tasks
A coherent, regional Investment Agenda gives direction to the Metropolis of Tomorrow. With investments that complement and support each other in tackling major regional challenges. The Amsterdam Economic Board is therefore in favor of investing in 'transition accelerators'. The first version of the agenda will be published in June.
With transition accelerators – a limited number of large and current investments – the region is building a new economy for a smart, green and healthy Metropolis of Tomorrow. An overarching vision is therefore crucial for governments, knowledge institutions and companies that work together with the Amsterdam Economic Board on drawing up and determining this Investment Agenda.
By listing the most important investments, it makes it possible for large and small players in the Amsterdam Metropolitan Area to work together on this. But also to align their other plans with the expected major investments to be made in the region. Greater investment security strengthens cooperation in the innovation ecosystem in the region and increases the joint impact.
For example, consider a smart and integrated power grid with sufficient capacity: an important condition for making companies, residential areas and mobility more sustainable. Or the development of a data-sharing infrastructure so that parties can realize smart AI solutions, for example for better healthcare.
"The transition task is huge. The energy system is changing, there is a major construction task ahead, mobility and logistics are becoming emission-free, while at the same time we are moving towards a circular economy. For all organizations involved, this is an enormous task that often goes beyond what is possible from one party. This is where the MRA Investment Agenda plays a role: by investing in transition accelerators that respond to the bottlenecks encountered by companies in their task, the municipalities and provinces can create the right conditions. This makes the transition feasible for companies in the MRA."

Pallas Agterberg
Director of Strategie at Alliander
The concept of a transition accelerator is new and there is as yet no shared idea of what it is. In this article we make suggestions : is investing in transition accelerators desirable? Do we agree on what a transition accelerator is? Which transition accelerators do we select? And how can we maximize the accelerating effect?
Deploy a different way of organizing and investing around complex transition tasks
Is investing in transition accelerators desirable? As far as we're concerned, yes. Transitions are complex and require a different way of organizing, as well as investing.
A transition consists of a large number of things that happen simultaneously, in which many parties and people are involved and in which unexpected turns, delays or accelerations sometimes occur. Drift research institute developed the X-curve to show that such a change is not in a straight line. A transition consists on the one hand of phasing out old structures, products, services and behavior that are no longer relevant and, on the other hand, of building new, desired things.
Read more below the image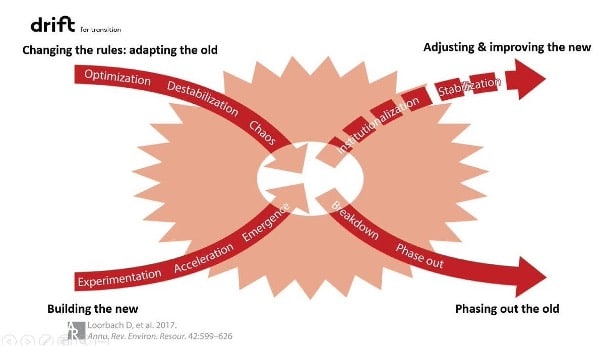 If you opt too much for quick wins to optimize existing business, you will miss the path to structural solutions. Anyone who does experiment but does not scale up in the new paths will eventually get stuck. Ultimately, the undesirable economic structures must also be demolished or phased out. And the social consequences are absorbed. Then there is room for innovation. Think of closing the Hemweg power station, which offers space for new sustainable concepts.
Transition tasks require cooperation. It concerns systemic changes that the business community, governments and knowledge institutions cannot realize on their own. This requires an integrated approach that cuts across sectors and domains and that makes smart connections between, for example, the economy, sustainability, spatial planning, education & the labor market and digitization.
From the Board we give substance to this innovative way of collaboration through network management. As a 'spider in the web', we orchestrate transition processes in the Amsterdam Metropolitan Area and build coalitions of parties from our network that want to work together on the transition tasks of the region.
Three reasons to invest in Transition Accelerators
It also helps in the field of financing if there is more focus and direction. Different financiers can then work together better, so that a real transition impact is achieved. The MRA Investment Agenda focuses on investments that accelerate transitions, which we believe is a good choice. We not only choose direction, but we also respond to urgency and we increase opportunities through this smart collaboration.
Direction: by investing smartly, we can now also try to push the transition in the desired direction and shape the future role and proposition of the Amsterdam Metropolitan Area. With the Regional Investment Agenda, we advocate those investments that accelerate transitions in a sustainable and responsible manner. By making a conscious choice, for example on the basis of the Impact Lenses, the investment volume in less responsible or sustainable matters also decreases as an important side effect. Money that goes to shore power connections in the port, for example, does not end up at diesel refueling points.
Urgency: The problem we want to solve often already exists, but if we do nothing or continue in the old way, the problem will only get worse. If we act in time, we are less likely to have to take more radical actions later on. For example: if fast fashion remains the norm, it will increase the waste problem in the future. Or like UvA PhD student Stan Olijslagers states (in a Dutch news article): "Investing in CO2 reduction now will pay off in the future."
Opportunities: If we want to accelerate transitions, we also need to seize the opportunities of today. The financing opportunities of the National Growth Fund and the European Green Deal are current. But also consider the substantial investments that will be made in the Amsterdam Metropolitan Area in the coming decade, such as investments in new homes. We can now use it to achieve other goals, such as accelerating the circular industry, and thus create more work at the same time.
Read more below the image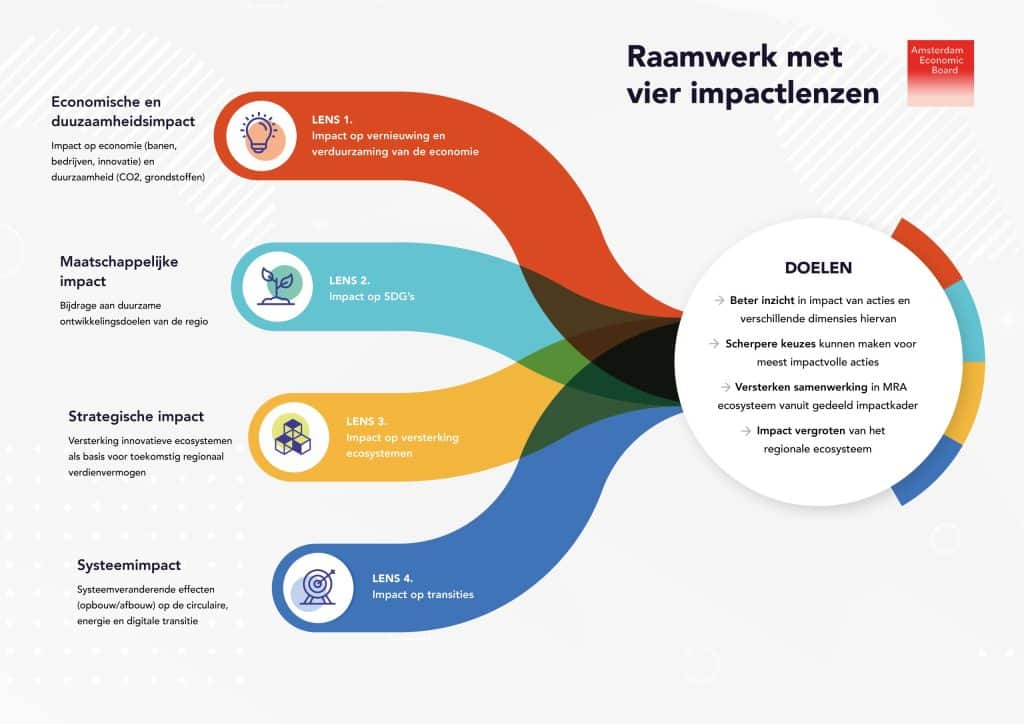 Which transition accelerators do we have in mind?
At first glance, there are a number of things that are really conditional for transitions. Our goal: invest in infrastructure, digitization and people.
An accessible, smart, well-connected infrastructure for energy, transport, circular flows and data, whose capacity can be optimally used is an important condition. Think of logistics hubs, circular processing capacity, and making it possible to share data. Not only investing in cables and pipelines, but also in technological innovation, other regulations, revenue models, protocols and governance.vvv
And invest in digital possibilities. The European Commission calls it 'the twin transition' for a reason: Sustainability and Digitization go hand in hand. So let's take a look at how the use of AI and a databased way of working can speed up societal challenges.
Investment plans are worth nothing if there are no people to realize them. And a lack of well-trained people with the right skills is now often a barrier. That is why every investment includes a thorough training and implementation plan. And we must also invest broadly in retraining, promotion and selection on the basis of skills instead of only on the basis of diplomas and experience.
Maximizing the accelerating effect
We are looking for transition accelerators: investments that are now possible and provide direction, but can also have an accelerating effect. This effect is greatest in the long term, if there is coherence in investments. When companies and other investing parties reinforce each other as an ecosystem. After all, the MRA Investment Agenda does not stand alone. ROM InWest and Horizon, the development company NHN, GO-NH and banks, funds and numerous private investors also provide investment funds. We say they too should better coordinate investments.
We foresee various types of accelerating effects, all of which also require something different in addition to the investments:
A facilitating effect makes things possible that didn't exist previously, or were not on that scale or in that place. For example, a new residential area cannot function without good access for pedestrians, bicycles, cars and public transport.
A spin-off effect can also be called a positive side effect or by-product. For example, a company that originates from scientific research.
A flywheel effect can be created by giving several mutually reinforcing pushes in the same direction, resulting in an acceleration. For more homegrown Tech talent, we invest, for example, in low-threshold training, financing additional costs during such training, and in job markets where people actually find work.
The leverage effect or leverage is a way of creating a larger desired movement with a small action, through the influence that action has on its environment. Example: investing in bicycle paths is more likely to encourage investment in bicycles than investing in highways.
With the multiplier effect What we mean here is that one investment can provoke another. If party A makes an investment, many other parties can also invest. As an example: investing in more capacity on the power grid ensures that all kinds of companies can invest in electrical production processes. But also: if party B agrees to take on part of an investment, then it becomes more feasible for other parties to participate in the investment.
The scaling up effect, where the effect of the investments is increased by:
Rolling out

– increasing volume by entering new markets or areas. For example, by placing charging stations in new places.

To copy

– applying a good solution (often by other parties) in a new setting. For example, studying a project from Haarlem and thus designing a project in Almere.

To expand

– growing by adding more content, services, products or partners. For example, adding new partners or new topics in a Green Deal.
Also strengthen the innovative ecosystems in the Amsterdam Metropolitan Area
Investing alone is not enough. A precondition for the accelerating effects of investing in transition accelerators to actually occur is a strong innovation and entrepreneurship climate. By investing in fertile ground for collaboration, for growing startups, with unexpected encounters, the chance increases that interesting projects will arise that do not stand alone. In the Amsterdam Metropolitan Area, there are numerous partnerships that play a role in this, including the Amsterdam Economic Board. As a player without a direct interest of its own, the Board can put urgent themes on the agenda, strengthen ecosystems and stimulate cooperation in a targeted manner. In this role, we help to make the right choices for transition accelerators that are well embedded in the MRA innovation ecosystem.
Read more
The 25th edition of Medical Data & Pizza reflected the ...

At the Prevention & Health workshop, experts from the public and private ...

The Metropolis of Tomorrow requires bold choices and breakthroughs. The 'Look differently, ...