Innovation for Health: How data can shape future of healthcare
At Innovation for Health 2021, it became clear that an ambitious vision has crystallised over the last year of lockdowns. A unified data infrastructure backed by complementary collaborating parties can drive AI-backed innovation: not only to improve health and healthcare, but also to prepare us against future pandemics. "What would it cost in the Netherlands? Five hundred million euros is peanuts against what was lost in the last year." Is it time for a Delta Plan for data?
The leading conference for healthcare innovators
The eighth annual Innovation for Health conference on 15 and 16 April 2021 brought together over 1000 key players in Life Sciences & Health to chart out the future of healthcare. With it taking place online due to the ongoing COVID-19 pandemic, this year's overarching theme of immunology was particularly relevant.
Various organisations and companies – from startups to big pharma – presented immunotherapy innovations that could prove game-changers in the treatment of not only viruses but also cancers and other diseases.
Leading the charge in developing a unified health data system
Smart Health Amsterdam (SHA) would not be SHA if they were not on hand to promote data science as a way to bring better outcomes to the bedside. Health lead at the Amsterdam Economic Board and one of SHA initiators, Jeroen Maas led the AI & Digital Health session.
To underline the vast potential of a unified health data infrastructure, Maas opened the session by pointing at the recent Dutch collaboration in developing a new COVID algorithm that predicts which people are at the greatest risk of developing complications after contracting coronavirus. By vaccinating these people first, a study has shown that the risk of hospital intakes could be cut in half after administering just one million vaccinations.
Changing human behaviour for better outcomes
The first speaker Ruben Osnabrugge is strategic lead of Value-Based Care at Philips. Coming from a largely academic background before entering the real-world concerns of Philips, Osnabrugge gave a cogent summary of what was happening and the role Philips aims to play in "enabling precise and personalised care across the health continuum".
Three trends are currently at play, according to Osnabrugge: chronic diseases are on the rise worldwide (plus, now, a pandemic), healthcare costs are spiralling upward, and people want to take more control over their own health. And digital transformation, with AI applications at the fore, can effectively work to face these challenges.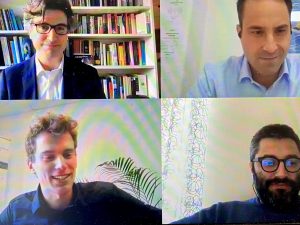 "But AI only becomes useful when there's the human dimension," says Osnabrugge. "We must factor in behaviour." Especially since we're not exactly the most reliable of species: only half of all patients use their prescribed medication in the correct manner – if at all. And doctors will only adapt their behaviour to start using new technologies if it's easy to use and they are suitably convinced that it improves outcomes.
"It's about human oversight and clear clinical actionables," summarises Maas.
More data and partners, please
Following Osnabrugge were the CEO and founders of two promising immunotherapy startups seeking to scale further.
"What do we need to really get ahead? It's the same answer as any AI-driven company," smiles Cedric Bogaert of myNEO, a machine learning platform that's already 10 times better than humans at identifying the best tumour targets for a patient's immune system to attack. "We need more data – the answer will always be more data. With more data, we can find more, and more effective, targets."
While revolutionary, immunotherapy remains a young science. It's only effective for 15% of all patients. The ability to identify those patients who would best benefit from a particular treatment would result in huge savings in costs. And that's one of the goals of Ellogon.ai, according to CEO Evangelos Kanoulas. "But long-term, it's not only about prognosis, but also therapeutics – and even prevention."
While already partnered with the Netherlands Cancer Institute (NKI) and with proven technology, Kanoulas says his company needs more partner hospitals to undertake more clinical trials.
"So, the need is clear: more partners and more data," concludes Maas.
How to create an ecosystem ready for future pandemics?
'Improving Pandemic Preparedness – Lessons Learned from COVID-19' showed how 14 months of this pandemic has crystallised a vision that stresses the intrinsic – and economic – importance of developing a shared data infrastructure in the Netherlands.
The session was moderated by an impassioned Bart van Zijll Langout, a vice president and Vaccine Alliance lead at Janssen – the Dutch subsidiary of Johnson & Johnson that developed the multinational's vaccine.
Paul Elbers, an intensivist at Amsterdam UMC and chair of Amsterdam Medical Data Science, summarised the current state of intensive care: "It's not a good time to have a heart attack". He also criticised how ill-prepared the Netherlands was and how policymakers still lack knowledge on what's happening in the field.
But Elbers remains optimistic: "Society showed great resilience. Also, there was an almost immediate collaboration with 85% of ICUs now sharing insights and immediate benefits. But of course, it would have been better if these collaborations were in place six months earlier."
And with every ICU and hospital in the country having their own data collection methodology and system, it's still largely a chaotic and unaligned mess of big data. In other words, it's time to get prepping.
Thinking bigger through data science
A regular feature on news programs, virologist Marion Koopmans is director of the WHO-allied Centre for Emerging Infectious Diseases at Erasmus Medical Centre, and a scientific director at the data-driven Netherlands Centre for One Health. She was also surprised at how quickly new partnerships were formed. "And now we have to extend our thinking and take things to the next level and understand what sped things up and what slowed things down."
By following the data, we can be better prepared for future outbreaks in terms of both surveillance and response, according to Koopmans. "We know a lot," she says, "but we need data science to scan for those tiny changes that might warn us. Look at Q fever, it arose from an almost imperceptible rise in goat farming. While at the same time we need to be looking at the larger picture: for example, people are talking about increasing wetlands to mitigate climate change, but wetlands also increase the risk of infectious diseases."
In other words, it's all too much for human brains to handle alone.
The new normal: Open Science
Hans Schikan, Special Envoy for Vaccines at Dutch Ministry of Health, highlighted how four vaccines have been approved in Europe within 14 months. He also emphasised that partnerships needed to be strengthened. For example, governments need to step up and share the risks more with the business world to help streamline response.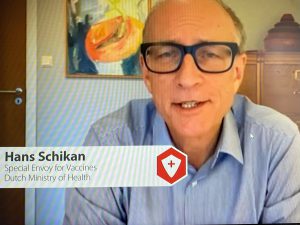 "De-risking for businesses is extremely important," agrees Frank Miedema, Vice-Rector Research and Professor of Immunology at UMC Utrecht. "But from a science view, governments also need to invest in data infrastructure. We saw what happened when data was opened up, paywalls disappeared and data was accessible to all: open science works for the public good! And if it worked for COVID-19, it can work for cancer and lots of other diseases!"
"This should be the new normal," says Miedema. "Politics needs to stand up: 500 million euros in data structure is peanuts compared to what the last pandemic year cost. And there are lots of viruses to come. We had the Delta plan for dikes – now we need one for data. It's got to be top-down – just like in wartime."
"It's time for the Netherlands to drive," enthuses Van Zijll Langout.
More information
Contact us
Share
Read more
Looking back, saying goodbye and looking ahead were all part of the ...

The Amsterdam region has a tremendous amount of Life Sciences & Health ...

What specific outcomes do your efforts yield? That's a question we'...