In addition to the initiatives, the Board is investing in two programmes that will have a major impact on ensuring a smart, green and healthy future for the Amsterdam region: a CO2-neutral region with a circular economy, in which we live longer and healthier lives, and a secure, sustainable digital society in which everyone can develop their talent. This is the core of our work.
Amsterdam Smart City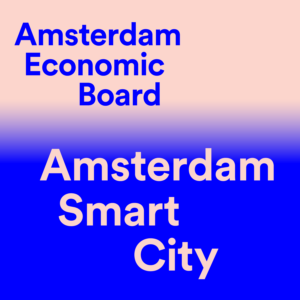 Amsterdam Smart City strives for a smart, green and healthy Amsterdam Metropolitan Area by working on the major transitions in the field of energy, circular economy, mobility and digitisation at street, neighbourhood, city and regional level. We are a unique driving force for urban innovation: an independent platform of 19 public and private partners who co-create and are connected to an international community of more than 8,000 changemakers. Our activities are founded on our core values: people first, learning by doing, public added value, and openness and transparency.
Though our open innovation method, we bring together unique qualities and ensure that our partners can make rapid headway and innovate meaningfully.
The programme is coordinated by the Amsterdam Economic Board and currently consists of 20 partners: Alliander, Arcadis, Johan Cruijff Arena, Royal HaskoningDHV, City of Amsterdam, Amsterdam University of Applied Sciences, Metabolic, Pakhuis de Zwijger, Province of North Holland, Eurofiber, Institute for Metropolitan Solutions, Municipality of Haarlem, Waag Society, PostNL, Amsterdam Transport Region, Nemo, Kennisland, Municipality of Haarlemmermeer and the Board.
If you would like to work as a partner to improve streets, neighbourhoods and cities, please contact Leonie van den Beuken, programme director of Amsterdam Smart City.
The online community features innovative projects that are currently underway, with hundreds of organisations and people involved in smart city projects and is a means to keep up to date with innovation in the region.
TechConnect
10,000+ people activated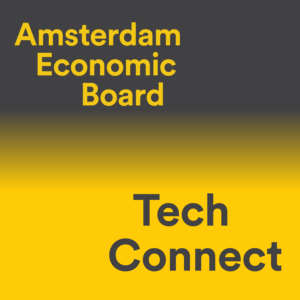 By getting 50,000 people from underrepresented groups into tech courses and the tech labour market, TechConnect provides a solution to the shortages in the tech labour market and ensures that untapped potential is given a chance. TechConnect contributes to the smart metropolis of the future.
TechConnect brings a huge influx of people, from very diverse groups, into the tech ecosystem, working on technology and algorithms from different perspectives. In 2021, 20,000 people will be involved, from various cultural backgrounds, including many women and people over 40.
This year's focus is on consolidating, improving and scaling existing initiatives. These include TekkieWorden, the guide for students in higher education who want to study and work in tech, and TechGrounds, which are tech hubs in disadvantaged neighbourhoods that stimulate tech entrepreneurship and digital skills. TechConnect plays the role of incubator.
The Board programme is funded by Rabobank, Booking.com, CA-ICT and the Amsterdam Economic Board. The Board is one of the programme's founding partners and is represented on the TechConnect Advisory Board. The Board's involvement in the programme is important because of its network, neutral position and connecting role.
For more information about the TechConnect Board programme, click here or contact Viktor Bos, programme director of TechConnect.
House of Skills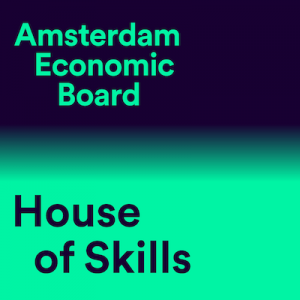 House of Skills is a public-private partnership in the Amsterdam Metropolitan Area. From 1 April 2021, House of Skills became part of the Amsterdam Economic Board as a program. The business community, as well as related organizations for employees and employers, knowledge institutions and administrators within the region work closely together to increase focus on skills in the current labor market. We are working on a more skills-oriented labor market where intersectoral mobility is facilitated and lifelong development is the norm.
More skills-oriented labor market
In the coming years, work will continue to change significantly due to developments in the labor market, such as automation. This means that workers and employers must respond to this and lifelong development is even more important than it already was.
By focusing the labor market more on skills, jobseekers' skills who had been invisible now gain increased attention. This creates a broader picture of jobseekers. All their skills can play a role in finding work. The match between supply and demand on the labor market can be made more accurately. For employers this means that the supply of potential personnel is increased.
Read more about the House of Skills Board program.