The coronavirus crisis has caused a huge decline in the sectors of catering, transport, temporary employment, travel, industry and care services. Layoffs and bankruptcies are becoming a reality. At the same time, there is a great demand for talent in sectors such as technology, IT, education and healthcare. More than ever, we need to support lifelong learning, upskilling and retraining.
Why a Talent Ecosystem Guide?
By developing the Talent Ecosystem Guide (TEG), we aim to make the ecosystem for talent development in the Amsterdam Metropolitan Area visible and accessible to everyone. We are creating a tool that supports the effective deployment and development of talent initiatives in the region. By focusing on initiatives for retraining and upskilling digital, circular and energy talent, TEG is contributing to a smart and green metropolitan area.
What is TEG?
The tool will help companies to navigate the education and training available for talent development, from courses for tech jobs to retraining for the energy sector. They will also see how they can contribute to talent development in the region, for example by offering internships. Opportunities will be created for universities, colleges and talent initiatives to come into contact with relevant target groups and increase their visibility. The tool will provide governments with an up-to-date overview for investment decisions and the efficient allocation of resources.
Goals for 2021
A consortium will be established comprising at least three other partners (governments and at least one university or college) for the further development of TEG, and external funding will be raised.
A Minimum Viable Product (MVP) will be developed with an overview of the talent ecosystem in relation to the energy transition and IT.
A connection will be made with at least four talent programmes in the Amsterdam Metropolitan Area.
An operational plan will be established for the rollout, governance and organisational form, marketing, communications, management, roadmap and further development of the tool.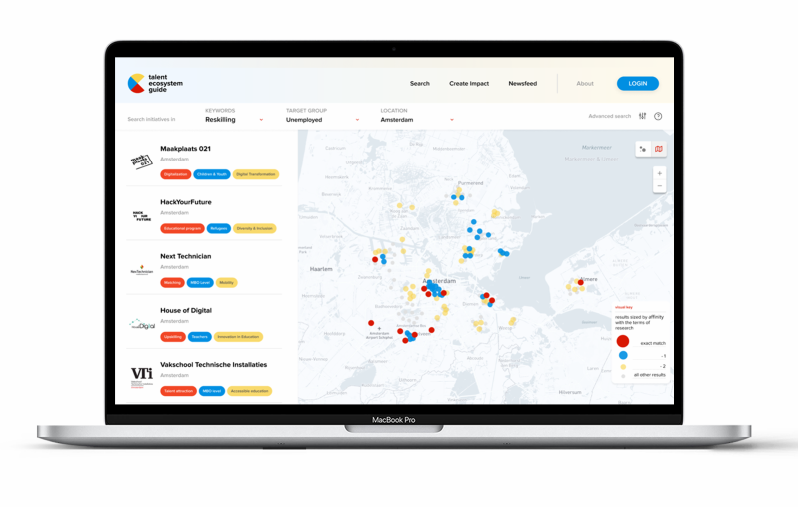 Activities in 2021
Forming a consortium for collaboration with interested parties and establishing a governance and partnership model for TEG.
Raising external funding and building an MVP with a focus on IT.
Making the connections between the Talent Ecosystem Guide and existing AMA and Board programmes.
Making a plan for launch and adoption (including marketing and communications).
Invitation to collaborate
Are you looking for an overview of lifelong learning, retraining and upskilling initiatives in the region and/or would you like to help validate the guide? Please contact Natalija Counet, Talent for the Future Lead.