On 11 May, we cordially invite new councilors to actively participate in the network of the Amsterdam Economic Board.
Nina Tellegen, general manager, will give a short introduction about Amsterdam Economic Board.
You will hear more about the urgent themes we are committed to through our programs and initiatives. And how you can participate as a member of a municipal council or provincial council. We will get better acquainted. To discuss specific, concrete topics, we will split up into breakout rooms.
This is a private event. Are you interested in participating? Please contact Marjan Schrama.
Click image to enlarge.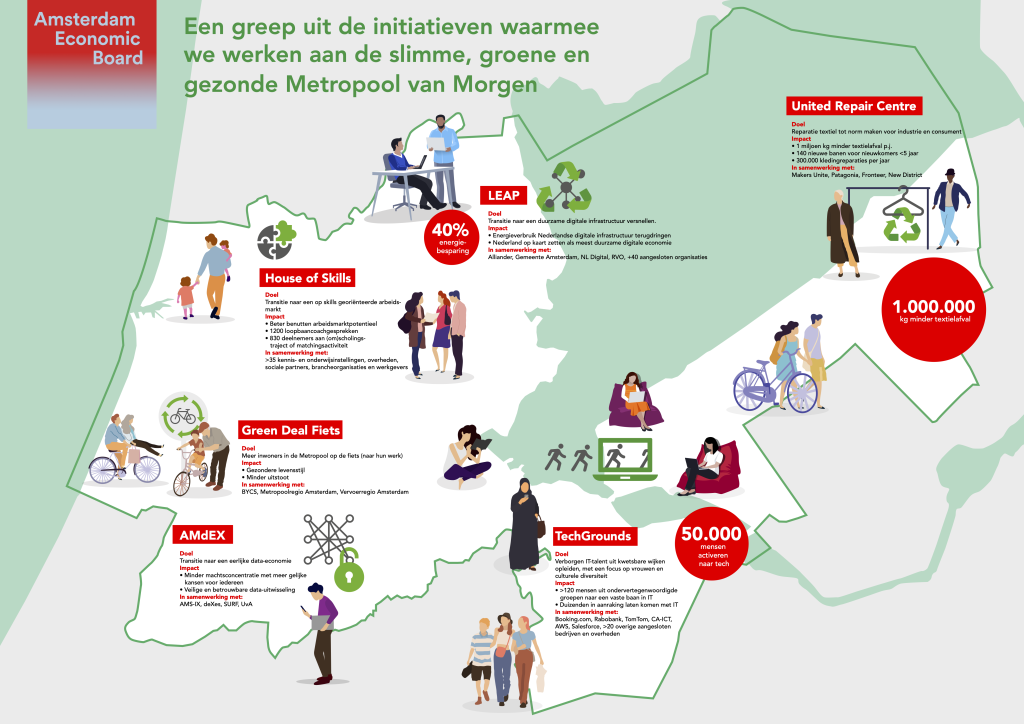 Smart, green and healthy Metropolis of Tomorrow | Amsterdam Economic Board
Background information
Amsterdam Economic Board is the network of decision makers and changemakers to work with on the Metropolis of Tomorrow. From companies, municipalities and provinces, to knowledge and educational institutions and social organisations. From small to large.
We collaborate with hundreds of organizations in the Amsterdam Metropolitan Area. Parties that play a deciding role on the road to a new economy: an economy in which people are central and growth, well-being and the environment are in balance. This is also known as 'broad prosperity'.
We encourage collaboration and accelerate innovation that contributes to solutions for the biggest social issues of today and tomorrow. To be used inside and outside our metropolis. Our focus is on three themes:
A sustainable and healthy living environment
Valuable work for everyone
Responsible use of data and technology